Best 1988 Adventures (8)
By: Joshua Glenn
March 27, 2020
One in a series of 10 posts identifying Josh Glenn's favorite 1988 adventure novels.
*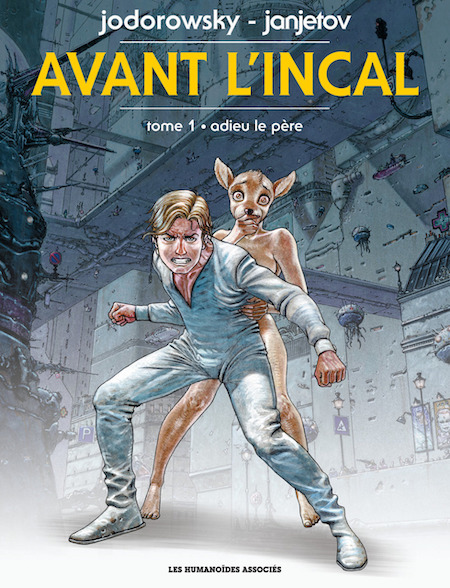 Alejandro Jodorowsky and Zoran Janjetov's cyberpunk comic Before the Incal (1988-1995).
Once you've read The Incal, Jodorowsky and Moebius's 1980–1988 space opera comic in which bumbling private investigator John DiFool runs afoul of various forces — corrupt government agents, the Technopriests, the alien Bergs, others — seeking a crystal of enormous power, check out this silly but effective prequel. In relatively straightforward installments — Adieu le père (1988), Détective privé de Classe R (1990), Croot! (1991), Anarchopsychotiques (1992), Ouisky, SPV et homéoputes (1993), and Suicide Allée (1995) — set in the Jodoverse's urban milieu, we encounter a surprisingly with-it, proactive younger version of DiFool. His character develops, from installment to installment, as he investigates the disappearance of missing prostitutes' children, discovers that big tech, billionaires, the government, the army, and corporate media are secretly in cahoots, and more. True, the female characters here leave much to be desired. But the android "policeborgs," the body-swapping president, and the disembodied brain which commands a legion of technopriests, are fun. One misses Moebius's artwork, but Janjetov was selected because his work resembles Moebius's early, Blueberry-era comics; it's more gruesome and sexually explicit than Moebius, and that's OK.
Fun facts: Followed by Jodorowsky' After the Incal (2000, with Jean Giraud), and Final Incal (2008–2014, with José Ladrönn).
***
JOSH GLENN'S *BEST ADVENTURES* LISTS: BEST 250 ADVENTURES OF THE 20TH CENTURY | 100 BEST OUGHTS ADVENTURES | 100 BEST RADIUM AGE (PROTO-)SCI-FI ADVENTURES | 100 BEST TEENS ADVENTURES | 100 BEST TWENTIES ADVENTURES | 100 BEST THIRTIES ADVENTURES | 75 BEST GOLDEN AGE SCI-FI ADVENTURES | 100 BEST FORTIES ADVENTURES | 100 BEST FIFTIES ADVENTURES | 100 BEST SIXTIES ADVENTURES | 75 BEST NEW WAVE SCI FI ADVENTURES | 100 BEST SEVENTIES ADVENTURES | 100 BEST EIGHTIES ADVENTURES | 75 BEST DIAMOND AGE SCI-FI ADVENTURES | 100 BEST NINETIES ADVENTURES (in progress) | 1994 | 1995 | 1996 | 1997 | 1998 | 1999 | 2000 | 2001 | 2002 | 2003 | NOTES ON 21st-CENTURY ADVENTURES.