Best 1988 Adventures (1)
By: Joshua Glenn
March 14, 2020
One in a series of 10 posts identifying Josh Glenn's favorite 1988 adventure novels.
*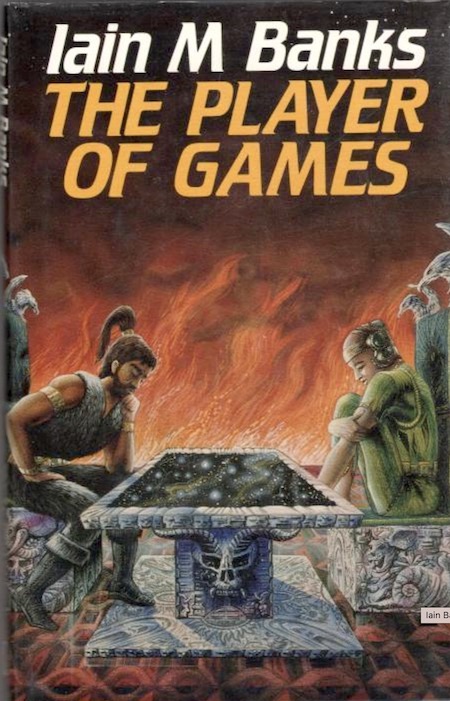 Iain M. Banks's Culture sci-fi adventure The Player of Games.
The Glass Bead Game in space? Games, for those lucky enough to belong to the technologically advanced and leisurely Culture, are considered one of humankind's highest achievements and most worthwhile pursuits; within that context, Jernau Morat Gurgeh is one of the best players of games. Gurgeh, a brilliant, blasé, and not particularly likeable character, is recruited by Special Circumstances — an outfit that does the Culture's dirty work when it comes to interacting with less-developed galactic civilizations — and tasked with participating in a ritual gaming tournament the outcome of which will determine the players' social status… and who the Azad Empire's next emperor will be. (The Azad Empire, BTW, is America: materialistic, exploitative, sexist and racist, pasty and bloated.) Meanwhile, what's up with the AI drone Mawhrin-Skel, who has been ejected from Special Circumstances? Although we never learn every aspect of "Azad," an immersive virtual reality game, we get the impression that it's highly complex and demanding; there are three-dimensional game boards of various shapes and sizes, various numbers of players who can compete or cooperate, and randomness is a factor. Gurgeh discovers that the Azad game is a crucial vehicle for transmitting the Azad Empire's values to its population… and it's for this reason that the Culture wants to interfere. As he advances through the tournament, Gurgeh is matched against increasingly powerful Azad politicians, and finally the Emperor himself; will Gurgeh survive the tournament? And even if he does, will the experience infect him with Azadian non-Culture values?
Fun facts: The second published Culture novel. A film version was planned by Pathé in the 1990s, but was abandoned. In 2015, Elon Musk named two SpaceX autonomous spaceport drone ships — Just Read the Instructions and Of Course I Still Love You — after AI ships in this book.
***
JOSH GLENN'S *BEST ADVENTURES* LISTS: BEST 250 ADVENTURES OF THE 20TH CENTURY | 100 BEST OUGHTS ADVENTURES | 100 BEST RADIUM AGE (PROTO-)SCI-FI ADVENTURES | 100 BEST TEENS ADVENTURES | 100 BEST TWENTIES ADVENTURES | 100 BEST THIRTIES ADVENTURES | 75 BEST GOLDEN AGE SCI-FI ADVENTURES | 100 BEST FORTIES ADVENTURES | 100 BEST FIFTIES ADVENTURES | 100 BEST SIXTIES ADVENTURES | 75 BEST NEW WAVE SCI FI ADVENTURES | 100 BEST SEVENTIES ADVENTURES | 100 BEST EIGHTIES ADVENTURES | 75 BEST DIAMOND AGE SCI-FI ADVENTURES | 100 BEST NINETIES ADVENTURES (in progress) | 1994 | 1995 | 1996 | 1997 | 1998 | 1999 | 2000 | 2001 | 2002 | 2003 | NOTES ON 21st-CENTURY ADVENTURES.