Best 1987 Adventures (4)
By: Joshua Glenn
March 5, 2020
One in a series of 10 posts identifying Josh Glenn's favorite 1987 adventure novels.
*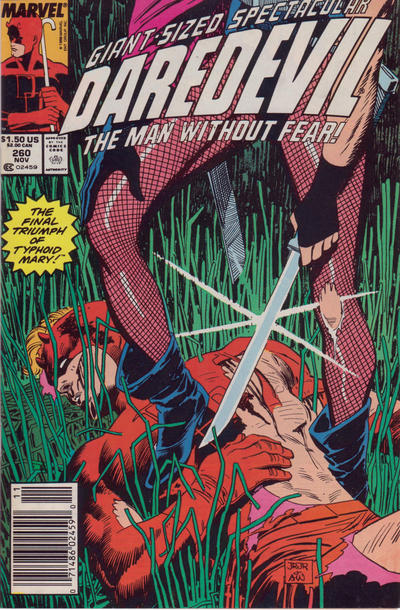 Ann Nocenti's run on Daredevil (1987–1991).
Having worked at Marvel for several years as one of comicdom's first female editors and writers, in 1987 HILOBROW friend Ann Nocenti was tapped to write Daredevil — following Frank Miller's run on the title, during which he'd transformed the titular superhero into one of Marvel's most popular characters. Beginning with issue #238, she spent over four years as the series' regular writer; for much of that time, John Romita Jr. was penciler and Al Williamson inked. Nocenti tackled social issues, pitting Daredevil (and his alter ego, blind lawyer and community activist Matt Murdock) against not merely criminals and supervillains, but racism, sexism, and government corruption. A restless experimentalist, Nocenti set her stories not only in the mean streets of Hell's Kitchen, but in hallucinatory dreamscapes where nothing was as it seemed. Typhoid Mary, one of Nocenti's best-known characters, is a lethal assassin, "love-maker and man-hater" who battles Daredevil… while beginning a steamy romance with Murdock. A smart, if deeply troubled figure, she offers sharp commentary on male violence. Romita Jr's artwork kept up with Nocenti's complex imagination, giving us explosive action scenes, surreal visions, and realistic street-life scenes.
Fun facts: In an interview, Nocenti described the Daredevil franchise as "a rich minefield of contradictions that can be riffed on endlessly." The 1987–1991 run has been reprinted in the Daredevil Epic Collection, particularly volume 13: A Touch of Typhoid.
***
JOSH GLENN'S *BEST ADVENTURES* LISTS: BEST 250 ADVENTURES OF THE 20TH CENTURY | 100 BEST OUGHTS ADVENTURES | 100 BEST RADIUM AGE (PROTO-)SCI-FI ADVENTURES | 100 BEST TEENS ADVENTURES | 100 BEST TWENTIES ADVENTURES | 100 BEST THIRTIES ADVENTURES | 75 BEST GOLDEN AGE SCI-FI ADVENTURES | 100 BEST FORTIES ADVENTURES | 100 BEST FIFTIES ADVENTURES | 100 BEST SIXTIES ADVENTURES | 75 BEST NEW WAVE SCI FI ADVENTURES | 100 BEST SEVENTIES ADVENTURES | 100 BEST EIGHTIES ADVENTURES | 75 BEST DIAMOND AGE SCI-FI ADVENTURES | 100 BEST NINETIES ADVENTURES (in progress) | 1994 | 1995 | 1996 | 1997 | 1998 | 1999 | 2000 | 2001 | 2002 | 2003 | NOTES ON 21st-CENTURY ADVENTURES.