Best 1986 Adventures (9)
By: Joshua Glenn
February 20, 2020
One in a series of 10 posts identifying Josh Glenn's favorite 1986 adventure novels.
*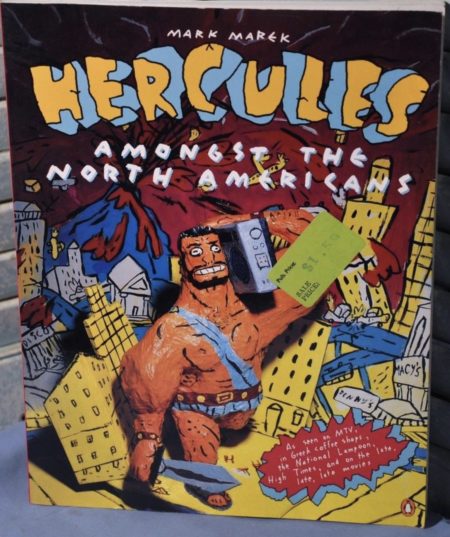 Mark Marek's comic Hercules Amongst the North Americans (serialized 1984–1986; as a book, 1986).
Those of us who read National Lampoon and High Times in c. 1985 will remember coming across Marek's "New Wave" (scratchy, demented) Hercules comic — "the strangest, bravest comic on earth" — there. The gag is simple: Somehow Hercules, son of Zeus and a mortal woman, greatest of the Greek heroes, and a paragon of masculinity, finds himself in the present-day USA. Marek's anachronistic, episodic comic is pitch-perfect: Each episode is narrated in a highbrow, mythopoetic voice ("A band of evil wood sprites, sent from the underworld, makes off with the radio") that's constantly subverted by the lowbrow cretins with whom Hercules must deal ("Yo, bro, check out dis box"). Long before Pixar squeezed Mr. Incredible into an office cubicle, Marek's Hercules, clad in a toga and lion-skin, was shown valiantly seeking an apartment, attempting to make a living at various jobs, shopping, attending a rock show, and dating. Like the Irish hero Oisín, who (in Yeats's 1889 epic poem) returns from a 300-year sojourn in the isles of Faerie only to discover his countrymen grown weak and small-minded, Hercules isn't cut out for our enfeebled world. Ever on the lookout for a challenge worthy of his skills, he seizes upon any opportunity to flex his mighty sinews, and unlimber his sword. If you've studied the classics, then you know that this is exactly how Hercules was reputed to have behaved. Along with Gary Panter's Jimbo, one of my very favorite comics of the Eighties.
Fun facts: In addition to making comics (check out 1983's Mark Marek's New Wave Comics, if you can find it), Marek illustrated albums for Cyndi Lauper and the Rolling Stones; he was lead animator for MTV2's Crank Yankers and Adult Swim's Saul of the Mole Men; he animated and directed episodes of KaBlam!, Teen Titans Go!, and Right Now Kapow; and he was lead animator of the 2010–2013 animated TV version of Mad.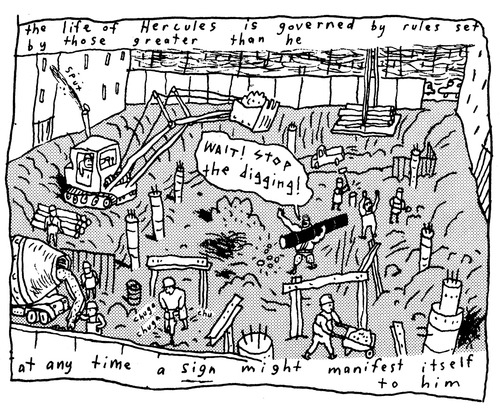 ***
JOSH GLENN'S *BEST ADVENTURES* LISTS: BEST 250 ADVENTURES OF THE 20TH CENTURY | 100 BEST OUGHTS ADVENTURES | 100 BEST RADIUM AGE (PROTO-)SCI-FI ADVENTURES | 100 BEST TEENS ADVENTURES | 100 BEST TWENTIES ADVENTURES | 100 BEST THIRTIES ADVENTURES | 75 BEST GOLDEN AGE SCI-FI ADVENTURES | 100 BEST FORTIES ADVENTURES | 100 BEST FIFTIES ADVENTURES | 100 BEST SIXTIES ADVENTURES | 75 BEST NEW WAVE SCI FI ADVENTURES | 100 BEST SEVENTIES ADVENTURES | 100 BEST EIGHTIES ADVENTURES | 75 BEST DIAMOND AGE SCI-FI ADVENTURES | 100 BEST NINETIES ADVENTURES (in progress) | 1994 | 1995 | 1996 | 1997 | 1998 | 1999 | 2000 | 2001 | 2002 | 2003 | NOTES ON 21st-CENTURY ADVENTURES.