Best 1986 Adventures (8)
By: Joshua Glenn
February 19, 2020
One in a series of 10 posts identifying Josh Glenn's favorite 1986 adventure novels.
*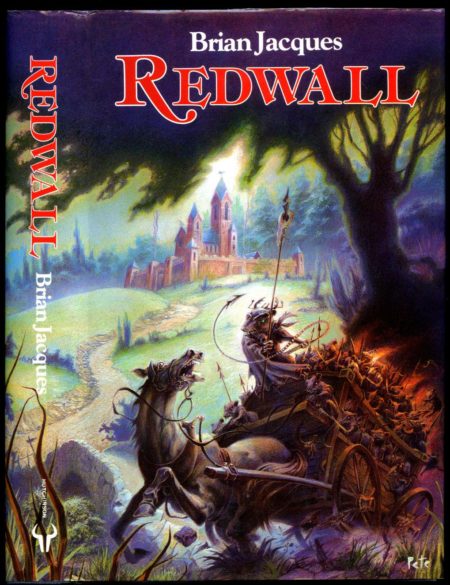 Brian Jacques's Redwall talking-animal adventure Redwall.
When Redwall Abbey is surrounded by the army of the evil rat Cluny the Scourge, an inexperienced novice, the mouse Matthias, must embark upon a quest to locate the sword of Martin the Warrior — which, according to legend, is concealed somewhere within the abbey's walls. Methuselah, Redwall's grizzled historian, helps Matthias follow clues… until he's killed by Chickenhound, a thieving fox. It seems that the sword was long ago stolen from its hiding place by the Sparras, a violent tribe of sparrows living on the abbey's roof; and Asmodeus Poisonteeth, a poisonous adder who dwells in Mossflower Wood, subsequently stole it from them. Accompanied by Log-a-Log, a shrew, and the Sparra queen Warbeak, Matthias courageously heads into Asmodeus's lair. Meanwhile, Cluny's horde invades Redwall — all seems lost! Can Matthias, the Mossflower shrews, and the Sparra tribe not only release the captive Redwall population, battle against Cluny's minions, and also deal with the ferocious rat? Will the abbey ever return to its peaceful focus on delicious meals — including Vegetable Casserole à La Foremole, Brockhall Badger Carrot Cakes, Squirrelmum's Blackberry and Apple Cake, and Hare's Haversack Crumble?
Fun facts: Jacques would also write Mossflower (1988), Mattimeo (1989), and 20 other Redwall novels. A 1999–2002 animated series — adapting Redwall, Mattimeo, and Martin the Warrior — was a favorite with my children. Elsewhere, I've noted the similarity between the first Redwall installment and R. Macherot's 1966 comic Sibyl-Anne Vs. Ratticus.
***
JOSH GLENN'S *BEST ADVENTURES* LISTS: BEST 250 ADVENTURES OF THE 20TH CENTURY | 100 BEST OUGHTS ADVENTURES | 100 BEST RADIUM AGE (PROTO-)SCI-FI ADVENTURES | 100 BEST TEENS ADVENTURES | 100 BEST TWENTIES ADVENTURES | 100 BEST THIRTIES ADVENTURES | 75 BEST GOLDEN AGE SCI-FI ADVENTURES | 100 BEST FORTIES ADVENTURES | 100 BEST FIFTIES ADVENTURES | 100 BEST SIXTIES ADVENTURES | 75 BEST NEW WAVE SCI FI ADVENTURES | 100 BEST SEVENTIES ADVENTURES | 100 BEST EIGHTIES ADVENTURES | 75 BEST DIAMOND AGE SCI-FI ADVENTURES | 100 BEST NINETIES ADVENTURES (in progress) | 1994 | 1995 | 1996 | 1997 | 1998 | 1999 | 2000 | 2001 | 2002 | 2003 | NOTES ON 21st-CENTURY ADVENTURES.