Best 1985 Adventures (3)
By: Joshua Glenn
January 25, 2020
One in a series of 10 posts identifying Josh Glenn's favorite 1985 adventure novels.
*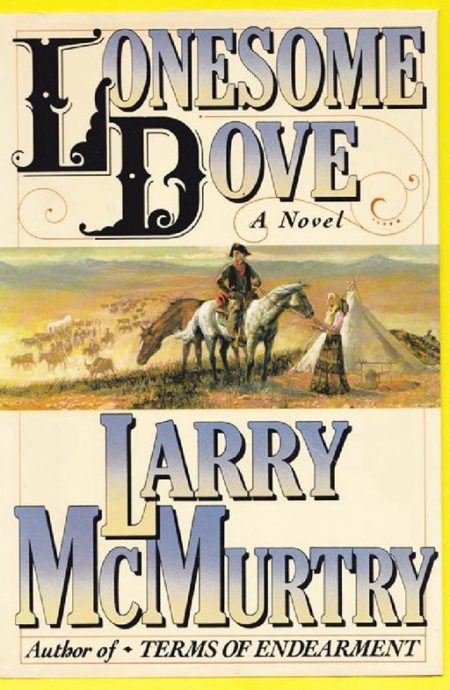 Larry McMurtry's Western adventure Lonesome Dove.
A revisionist Western that has been received, by critics and the American public alike, as "the great cowboy novel" — an idealization of the Old West. In the late 1870s, two retired Texas Rangers, Captain Woodrow F. Call and Captain Augustus "Gus" McCrae, decide to abandon the small Texas border town of Lonesome Dove and drive their herd of cattle to the wilds of Montana. Accompanied by Deets, an African American tracker and scout, Pea Eye, a former Ranger, Bolivar, a retired Mexican bandit, and the teenaged Newt, the crusty Call and philosophical Gus head north. They're trailed by Jake Spoon (another former Ranger, who is wanted for murder) and the prostitute Lorena Wood; Jake, meanwhile, is being trailed by July Johnson, a sheriff from Arkansas, and his stepson; and Johnson is followed by Roscoe Brown, his inept deputy sheriff, and Janey — a girl who takes Roscoe under her wing. It's a saga! There are sordid, thrilling, horrific encounters with: an Indian bandit named Blue Duck, and his gang; the murderous Suggs brothers; and Blood Indians. Characters drop like flies. Themes of old age, death, unrequited love, and friendship are explored — however, as in all the best sagas, there are no happy endings. The writing is rich, intelligent, entertaining, sorrowful — never sentimental.
Fun facts: McMurtry and Peter Bogdanovich (whose 1971 movie The Last Picture Show was based on McMurtry's novel) developed a screenplay for a Western written for John Wayne, James Stewart, and Henry Fonda. The movie was never made, so McMurtry reworked the script into Lonesome Dove, which won the Pulitzer Prize. It was adapted as a 1989 TV miniseries starring Robert Duvall and Tommy Lee Jones as Gus and Call, as well as Rick Schroder, Danny Glover, Robert Urich, Diane Lane, Chris Cooper, and Anjelica Huston. The sequel is Streets of Laredo (1993); there are also two prequels.
***
JOSH GLENN'S *BEST ADVENTURES* LISTS: BEST 250 ADVENTURES OF THE 20TH CENTURY | 100 BEST OUGHTS ADVENTURES | 100 BEST RADIUM AGE (PROTO-)SCI-FI ADVENTURES | 100 BEST TEENS ADVENTURES | 100 BEST TWENTIES ADVENTURES | 100 BEST THIRTIES ADVENTURES | 75 BEST GOLDEN AGE SCI-FI ADVENTURES | 100 BEST FORTIES ADVENTURES | 100 BEST FIFTIES ADVENTURES | 100 BEST SIXTIES ADVENTURES | 75 BEST NEW WAVE SCI FI ADVENTURES | 100 BEST SEVENTIES ADVENTURES | 100 BEST EIGHTIES ADVENTURES | 75 BEST DIAMOND AGE SCI-FI ADVENTURES | 100 BEST NINETIES ADVENTURES (in progress) | 1994 | 1995 | 1996 | 1997 | 1998 | 1999 | 2000 | 2001 | 2002 | 2003 | NOTES ON 21st-CENTURY ADVENTURES.