Best 1985 Adventures (1)
By: Joshua Glenn
January 23, 2020
One in a series of 10 posts identifying Josh Glenn's favorite 1985 adventure novels.
*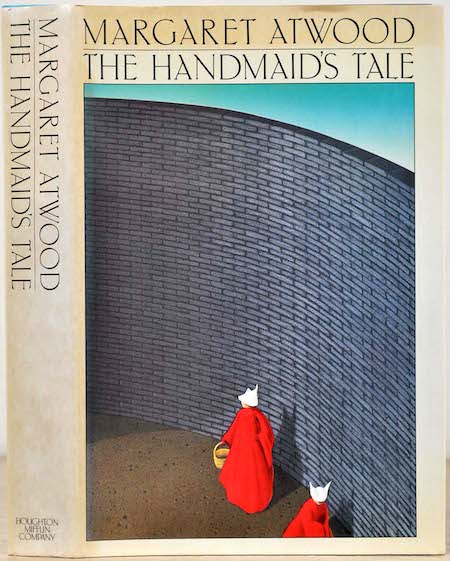 Margaret Atwood's The Handmaid's Tale (1985).
In the not-too-distant future, perhaps 20 years from the time of the book's writing, the United States has suffered a coup transforming an erstwhile liberal democracy into a theocratic dictatorship. Because the American population is shrinking due to a toxic environment and man-made viruses, the ability to have viable babies is at a premium. A puritanical Republic of Gilead, whose capital is Cambridge, Mass., has been established — and the regime's elite have fertile females assigned to them as Old Testament-style "handmaids." Drawing on historical atrocities from sumptuary laws, book burnings, the child-stealing of the Argentine generals, and the history of American polygamy, Atwood depicts a dystopia in which social control is perpetuated not only by violence but through everything from clothing to language. "Offred," the central character, whose journal we are reading, used to be named something else; now she is "of" (belongs to) Fred, a former market researcher who has become one of the architects of the new republic; Fred's wife, a former televangelist, is presumed barren — and bitterly resents Offred, while yearning for Offred's child. Offred and some of her fellow handmaids attempt to reclaim their lost individualism and independence; some of this experimentalist novel's sections describe the lives of handmaids who may or may not be Offred. Interspersed with these snapshots are Offred's memories of her life from before and during the beginning of the revolution, including her indoctrination at the hands of government "Aunts." The ending is ambiguous — will Offred escape? Will anyone?
Fun facts: The Testaments, a sequel, was published in 2019.Gilead's Secret Service is headquartered in Harvard's Widener Library, where Atwood once researched the Salem witchcraft trials. The Handmaid's Tale won the first Arthur C. Clarke Award; it has been adapted into a 1990 film, a graphic novel, and a much-discussed 2017–present TV show created by Bruce Miller.
***
JOSH GLENN'S *BEST ADVENTURES* LISTS: BEST 250 ADVENTURES OF THE 20TH CENTURY | 100 BEST OUGHTS ADVENTURES | 100 BEST RADIUM AGE (PROTO-)SCI-FI ADVENTURES | 100 BEST TEENS ADVENTURES | 100 BEST TWENTIES ADVENTURES | 100 BEST THIRTIES ADVENTURES | 75 BEST GOLDEN AGE SCI-FI ADVENTURES | 100 BEST FORTIES ADVENTURES | 100 BEST FIFTIES ADVENTURES | 100 BEST SIXTIES ADVENTURES | 75 BEST NEW WAVE SCI FI ADVENTURES | 100 BEST SEVENTIES ADVENTURES | 100 BEST EIGHTIES ADVENTURES | 75 BEST DIAMOND AGE SCI-FI ADVENTURES | 100 BEST NINETIES ADVENTURES (in progress) | 1994 | 1995 | 1996 | 1997 | 1998 | 1999 | 2000 | 2001 | 2002 | 2003 | NOTES ON 21st-CENTURY ADVENTURES.