Best 1979 Adventures (2)
By: Joshua Glenn
December 6, 2019
One in a series of 10 posts identifying Josh Glenn's favorite 1979 adventure novels.
*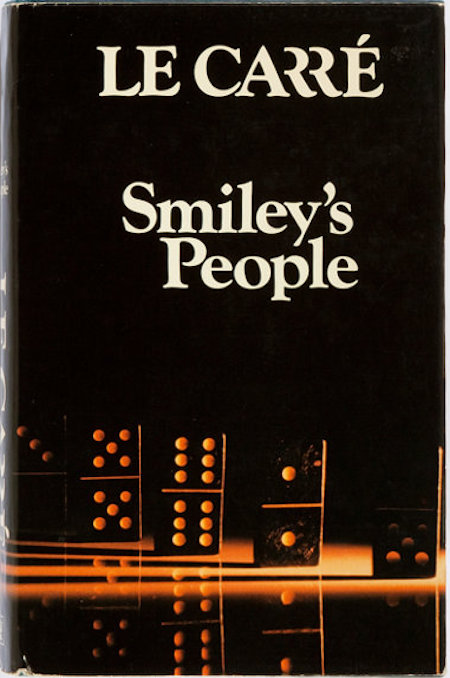 John le Carré's espionage adventure Smiley's People.
At the end of The Honourable Schoolboy (1977), the second installment in the so-called Karla Trilogy, spymaster George Smiley is forced out of the Circus — the British intelligence service to which he'd returned (see 1974's Tinker Tailor Soldier Spy), in order to root out a mole — and into premature retirement. Here, he's lured back into action when he learns that Karla, the Soviet Intelligence mastermind who'd planted the Circus mole, may have a secret weakness that can be exploited. Like Call for the Dead (1961), in which we first meet Smiley, this story begins with a murder investigation: Why did Karla have General Vladimir, one of Smiley's contacts during the war, killed in London? The investigation leads Smiley's people to Paris, Germany, Switzerland… and it takes Smiley back to Berlin, in the end. In order to capture Karla, Smiley will have to allow himself to be possessed by the very evil he has fought against; he must be utterly ruthless, remorseless. "Hunter, recluse, lover, solitary man in search of completion, shrewd player of the Great Game, avenger, doubter in search of reassurance," Le Carré writes of his protagonist, "Smiley was by turns each one of them, and sometimes more than one." Connie Sachs, Toby Esterhase, Peter Guillam, all play a role: Those of us who enjoy getting-the-gang-back-together adventures will recognize this slow-moving, but gripping story as falling into that category.
Fun facts: The General Vladimir character was partly modeled on Colonel Alfons Rebane, an Estonian émigré who led the Estonian portion of SIS's Operation Jungle in the 1950s. Smiley's People was dramatized as a very good six-part TV miniseries for the BBC in 1982, starring Alec Guinness as Smiley.
***
JOSH GLENN'S *BEST ADVENTURES* LISTS: BEST 250 ADVENTURES OF THE 20TH CENTURY | 100 BEST OUGHTS ADVENTURES | 100 BEST RADIUM AGE (PROTO-)SCI-FI ADVENTURES | 100 BEST TEENS ADVENTURES | 100 BEST TWENTIES ADVENTURES | 100 BEST THIRTIES ADVENTURES | 75 BEST GOLDEN AGE SCI-FI ADVENTURES | 100 BEST FORTIES ADVENTURES | 100 BEST FIFTIES ADVENTURES | 100 BEST SIXTIES ADVENTURES | 75 BEST NEW WAVE SCI FI ADVENTURES | 100 BEST SEVENTIES ADVENTURES | 100 BEST EIGHTIES ADVENTURES | 75 BEST DIAMOND AGE SCI-FI ADVENTURES | 100 BEST NINETIES ADVENTURES (in progress) | 1994 | 1995 | 1996 | 1997 | 1998 | 1999 | 2000 | 2001 | 2002 | 2003 | NOTES ON 21st-CENTURY ADVENTURES.