Best 1974 Adventures (7)
By: Joshua Glenn
November 12, 2019
One in a series of 10 posts identifying Josh Glenn's favorite 1974 adventure novels.
*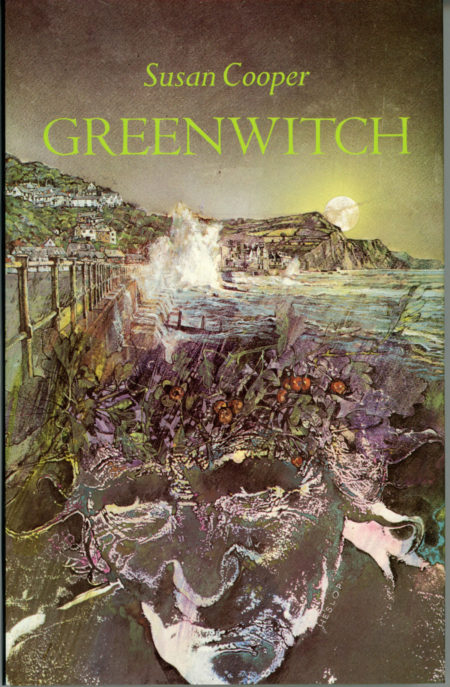 Susan Cooper's The Dark is Rising YA fantasy adventure Greenwitch.
In the third, and possibly best installment in Cooper's series about British children who find themselves involved in thwarting the rising of the Dark, Simon, Jane, and Barney Drew — whom we've previously met, in the mystery novel Over Sea, Under Stone (1965) — arrive in Trewissick (a fictional Cornwall fishing village) for a holiday. Their family friend Merriman Lyon introduces them to Will Stanton, a boy their age whom they at first dislike; he's preternaturally composed and mature. (Readers of the second series installment, The Dark Is Rising (1973), know that Merriman and Will are Old Ones — wizards who've faced the growing menace of supernatural evil since King Arthur's time.) There's an ominous Wicker Man vibe to this story, the plot of which centers around an annual rite wherein Trewissick's women weave a figure of leaves and branches, then cast it into the sea for good luck in fishing and harvest. As we've learned from the first installments in the series, the forces of Dark and Light alike must negotiate Old Magic, Wild Magic, and High Magic — eldritch forces beyond good and evil; the titular Greenwitch, who comes into possession of an artifact sought by the agents of Light and Dark alike, cannot be forced to release it… only cajoled and persuaded, by an empathetic mortal… which is where Jane Drew plays a key role. There's a voyage beneath the sea, a ghostly ship, a creepy interlude with a sinister painter who lives in a caravan, even a dog-napping — all integrated with sophisticated mythopoeic tropes, and all serving the series' complex larger plot.
Fun facts: As a child, Cooper used to holiday in the village of Mevagissey — which inspired the setting for Over Sea, Under Stone and Greenwitch. Wes Anderson is a fan of the Dark is Rising series; let's hope that he decides to adapt the books as a series of movies.
***
JOSH GLENN'S *BEST ADVENTURES* LISTS: BEST 250 ADVENTURES OF THE 20TH CENTURY | 100 BEST OUGHTS ADVENTURES | 100 BEST RADIUM AGE (PROTO-)SCI-FI ADVENTURES | 100 BEST TEENS ADVENTURES | 100 BEST TWENTIES ADVENTURES | 100 BEST THIRTIES ADVENTURES | 75 BEST GOLDEN AGE SCI-FI ADVENTURES | 100 BEST FORTIES ADVENTURES | 100 BEST FIFTIES ADVENTURES | 100 BEST SIXTIES ADVENTURES | 75 BEST NEW WAVE SCI FI ADVENTURES | 100 BEST SEVENTIES ADVENTURES | 100 BEST EIGHTIES ADVENTURES | 75 BEST DIAMOND AGE SCI-FI ADVENTURES | 100 BEST NINETIES ADVENTURES (in progress) | 1994 | 1995 | 1996 | 1997 | 1998 | 1999 | 2000 | 2001 | 2002 | 2003 | NOTES ON 21st-CENTURY ADVENTURES.