Best 1974 Adventures (6)
By: Joshua Glenn
November 11, 2019
One in a series of 10 posts identifying Josh Glenn's favorite 1974 adventure novels.
*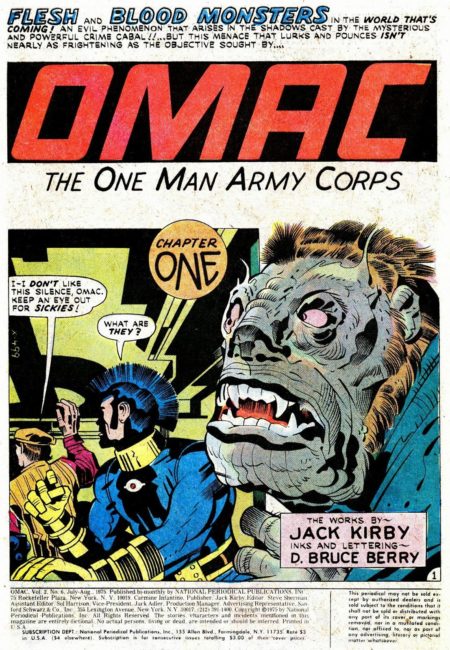 Jack Kirby's New Wave sci-fi comic OMAC.
While working at Marvel in 1964, Jack Kirby helped resurrect Captain America, whom he'd co-created in 1940, for The Avengers; soon, Kirby was drawing stories about the character in Tales of Suspense. Around the time that title was renamed Captain America Kirby got the idea for a far-future version of the star-spangled hero … which he brought with him when he left for DC in 1970. OMAC — the One-Man Army Corps — is a project of NASA's and the global peace agency, agents of which conceal their national origins and ethnic identities in order to represent all humankind. Professor Forest programs an ultra-powerful satellite to remotely perform "a computer hormone operation" on the nebbishy Buddy Blank, transforming him — without his consent or knowledge — into a violently effective force for good. Alas, there were only eight issues of OMAC. In the first, our mohawked hero busts up an exploding fembot operation, then heads off to meet with his creator in Electric City. But this, he discovers, is "the era of the SUPER-RICH! When money, like technology, reaches complex proportions, complex situations arise." Later, OMAC is sent to apprehend Marshal Kafka, an Eastern European warlord who's developed an octopoid "multi-killer" reminiscent of Kirby's monsters — Groot, Grottu, Fin Fang Foom — of the late '50s. In one of his final adventures, a Get Out-like yarn about old people transplanting their brains into young bodies, OMAC picks up a Bucky Barnes-esque sidekick, albeit one so sociopathic he's willing to sell his own girlfriend to these creeps.
Fun facts: The character OMAC has popped up now and again, in DC comics over the years. Most recently, in the Infinite Crisis storyline, OMACs were portrayed as humans whose bodies have been corrupted by a nano-virus. The acronym has been reinterpreted to mean "Observational Meta-human Activity Construct" and "Omni Mind And Community".
***
JOSH GLENN'S *BEST ADVENTURES* LISTS: BEST 250 ADVENTURES OF THE 20TH CENTURY | 100 BEST OUGHTS ADVENTURES | 100 BEST RADIUM AGE (PROTO-)SCI-FI ADVENTURES | 100 BEST TEENS ADVENTURES | 100 BEST TWENTIES ADVENTURES | 100 BEST THIRTIES ADVENTURES | 75 BEST GOLDEN AGE SCI-FI ADVENTURES | 100 BEST FORTIES ADVENTURES | 100 BEST FIFTIES ADVENTURES | 100 BEST SIXTIES ADVENTURES | 75 BEST NEW WAVE SCI FI ADVENTURES | 100 BEST SEVENTIES ADVENTURES | 100 BEST EIGHTIES ADVENTURES | 75 BEST DIAMOND AGE SCI-FI ADVENTURES | 100 BEST NINETIES ADVENTURES (in progress) | 1994 | 1995 | 1996 | 1997 | 1998 | 1999 | 2000 | 2001 | 2002 | 2003 | NOTES ON 21st-CENTURY ADVENTURES.