Best 1974 Adventures (4)
By: Joshua Glenn
November 9, 2019
One in a series of 10 posts identifying Josh Glenn's favorite 1974 adventure novels.
*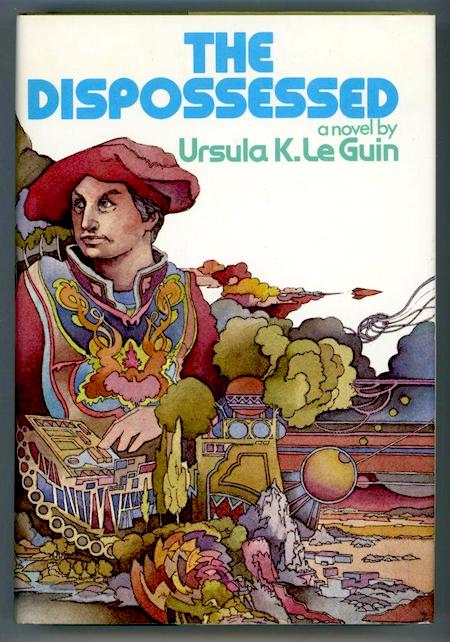 Ursula K. Le Guin's New Wave sci-fi adventure The Dispossessed.
Shevek, a brilliant young physicist, lives on the peaceful anarchistic planet Anarres, whose inhabitants value voluntary cooperation, local control, and mutual tolerance. This is a richly imagined world — with a language, for example, that cannot readily express "propertarian" or "egoist" concepts. The downside of this utopia is an entrenched bureaucracy that stifles innovation, particularly if it seems to challenge the prevailing political and social ethos. Shevek's new temporal theory, and the resulting "Ansible" that he hopes to develop (which will allow instantaneous communication between any two points, no matter how many light-years apart; and which will therefore make possible a galactic network of civilizations), may never see the light of day. So he relocates to Urras, a nearby world (Annares is its moon) where disruptive new theories and technologies are welcomed. Once there, however, Shevek is dismayed and disgusted by Urras's two largest states: the USA-like A-Io, which is capitalist, sexist, wasteful, exploitative, and tumultuous — forever on the verge of revolution or war; and the authoritarian, USSR-like Thu. While the author is clearly sympathetic to the ideals of Annares, The Dispossessed is a pointed critique of typical utopian narratives; the dichotomies that Le Guin describes are not readily surmounted — it's a negative-dialectical romance.
Fun facts: Although this was the fifth novel published in Le Guin's Hainish Cycle, chronologically it is the first. The Dispossessed won the Nebula and Hugo Awards for Best Novel. Later editions of the book are subtitled "An Ambiguous Utopia."
***
JOSH GLENN'S *BEST ADVENTURES* LISTS: BEST 250 ADVENTURES OF THE 20TH CENTURY | 100 BEST OUGHTS ADVENTURES | 100 BEST RADIUM AGE (PROTO-)SCI-FI ADVENTURES | 100 BEST TEENS ADVENTURES | 100 BEST TWENTIES ADVENTURES | 100 BEST THIRTIES ADVENTURES | 75 BEST GOLDEN AGE SCI-FI ADVENTURES | 100 BEST FORTIES ADVENTURES | 100 BEST FIFTIES ADVENTURES | 100 BEST SIXTIES ADVENTURES | 75 BEST NEW WAVE SCI FI ADVENTURES | 100 BEST SEVENTIES ADVENTURES | 100 BEST EIGHTIES ADVENTURES | 75 BEST DIAMOND AGE SCI-FI ADVENTURES | 100 BEST NINETIES ADVENTURES (in progress) | 1994 | 1995 | 1996 | 1997 | 1998 | 1999 | 2000 | 2001 | 2002 | 2003 | NOTES ON 21st-CENTURY ADVENTURES.