Best 1974 Adventures (2)
By: Joshua Glenn
November 5, 2019
One in a series of 10 posts identifying Josh Glenn's favorite 1974 adventure novels.
*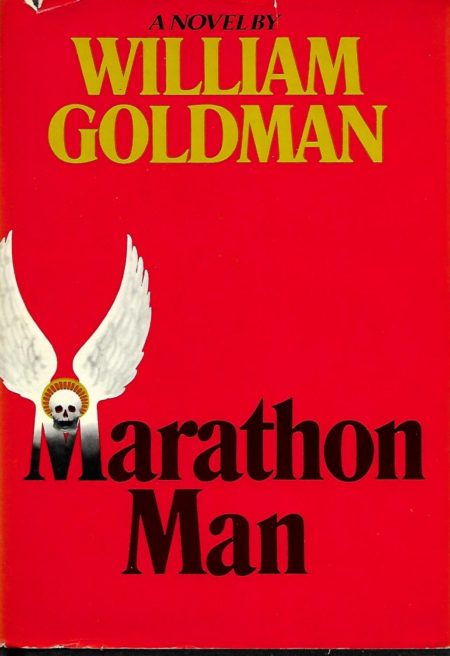 William Goldman's political thriller Marathon Man.
When two old men get into a fender-bender in New York, Dr. Szell, a sadistic former dentist at Auschwitz, is forced out of hiding in Paraguay — because he no longer has any way to convert the diamonds he stole from Jewish prisoners into cash. Szell's ill-gotten gains have been funneled through a secret US agency, "the Division," to whom Szell has passed information about other escaped Nazis. Szell's Division contact, Hank "Doc" Levy, is a tough op masquerading as an oil company exec; Doc's younger brother, Tom "Babe" Levy, is a Columbia grad student and avid runner. When Szell travels to New York, he decides that Doc is planning to rob him; and he winds up abducting Babe, in an effort to extract information — via a nightmarish dental procedure — about the supposed heist. Babe is no secret agent, but thanks to his training as a marathoner, he's able to escape… and then he seeks revenge. A cynical, violent thriller for the beginning of a cynical, violent era; Goldman's black humor and vivid writing redeem what otherwise might be a sordid, sick, depressing story.
Fun facts: Goldman, who won Academy Awards for his Butch Cassidy and the Sundance Kid (1969) and All the President's Men (1976) screenplays, also wrote The Princess Bride (1973) and its screenplay. John Schlesinger adapted Marathon Man in 1976; the movie stars Dustin Hoffman, Laurence Olivier, and Roy Scheider. "True, this thriller is hardly fast-paced, soaks its story in patient period detail, and reveals its plot points only when necessary," writes Gordon Dahlquist. "Yet such is the confidence of the whole thing that your attention never flags — a confidence exactly balanced between Schlesinger's artistic taste and writer William Goldman's pulp acuity." Goldman's final novel, Brothers (1986), is a gimmicky, far-fetched sequel to Marathon Man.
***
JOSH GLENN'S *BEST ADVENTURES* LISTS: BEST 250 ADVENTURES OF THE 20TH CENTURY | 100 BEST OUGHTS ADVENTURES | 100 BEST RADIUM AGE (PROTO-)SCI-FI ADVENTURES | 100 BEST TEENS ADVENTURES | 100 BEST TWENTIES ADVENTURES | 100 BEST THIRTIES ADVENTURES | 75 BEST GOLDEN AGE SCI-FI ADVENTURES | 100 BEST FORTIES ADVENTURES | 100 BEST FIFTIES ADVENTURES | 100 BEST SIXTIES ADVENTURES | 75 BEST NEW WAVE SCI FI ADVENTURES | 100 BEST SEVENTIES ADVENTURES | 100 BEST EIGHTIES ADVENTURES | 75 BEST DIAMOND AGE SCI-FI ADVENTURES | 100 BEST NINETIES ADVENTURES (in progress) | 1994 | 1995 | 1996 | 1997 | 1998 | 1999 | 2000 | 2001 | 2002 | 2003 | NOTES ON 21st-CENTURY ADVENTURES.