Best 1954 Adventures (9)
By: Joshua Glenn
September 13, 2019
One in a series of 10 posts identifying Josh Glenn's favorite 1954 adventure novels.
*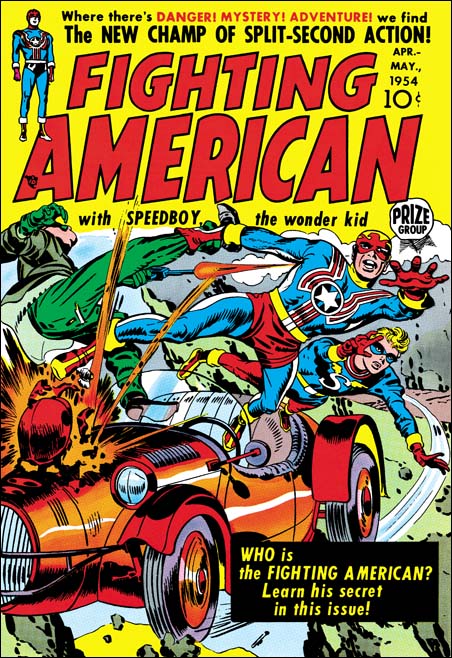 Joe Simon and Jack Kirby's Fighting American comic (1954–1955).
When Joe Simon and Jack Kirby created Fighting American, first published by Prize Publications, they did so as a gag; note that Harvey Kurtzman and Wally Wood's "Superduperman" had appeared in MAD Magazine the previous year. What makes this comic so interesting and enjoyable to read is the fact that Simon and Kirby were parodying their own creation. Back in 1941, they'd introduced Captain America to the American public with a first-issue cover on which the titular patriotic supersoldier punches Hitler in the face. Captain America, which became a best-selling title for Timely (eventually, Marvel), helped revolutionize the comic-book layout with dynamic action splashed across full and sometimes double pages. In the years following WWII, Simon and Kirby's studio would crank out all sorts of titles — romance, crime, western, sci-fi, war — but superhero comics were on the wane. Fighting American is an absurdist effort: Our hero's alter ego is Johnny Flag, a McCarthy-esque TV commentator who denounces Communist supporters; weirdly, his true identity is the unathletic younger brother of the dead Johnny. His enemies have monikers like Poison Ivan, Deadly Dolittle, Invisible Irving, and the Sneak Of Araby; his sidekick is Speedboy. But the action is truly spectacular — much more so than Simon and Kirby's work on Captain America. It's as though the pioneering comics duo was demonstrating what superhero comics could become; in 1961–1963, when Kirby and Stan Lee co-created The Fantastic Four, The Avengers, et al., everybody else finally got the message.
Fun facts: In 1966, Simon packaged a single issue of Fighting American consisting of reprints and unpublished material, for Harvey Comics. The 2010 collection Simon and Kirby: Superheroes, a gorgeous doorstopper from Titan Books, is probably the best source for Fighting American's original run.
***
JOSH GLENN'S *BEST ADVENTURES* LISTS: BEST 250 ADVENTURES OF THE 20TH CENTURY | 100 BEST OUGHTS ADVENTURES | 100 BEST RADIUM AGE (PROTO-)SCI-FI ADVENTURES | 100 BEST TEENS ADVENTURES | 100 BEST TWENTIES ADVENTURES | 100 BEST THIRTIES ADVENTURES | 75 BEST GOLDEN AGE SCI-FI ADVENTURES | 100 BEST FORTIES ADVENTURES | 100 BEST FIFTIES ADVENTURES | 100 BEST SIXTIES ADVENTURES | 75 BEST NEW WAVE SCI FI ADVENTURES | 100 BEST SEVENTIES ADVENTURES | 100 BEST EIGHTIES ADVENTURES | 75 BEST DIAMOND AGE SCI-FI ADVENTURES | 100 BEST NINETIES ADVENTURES (in progress) | 1994 | 1995 | 1996 | 1997 | 1998 | 1999 | 2000 | 2001 | 2002 | 2003 | NOTES ON 21st-CENTURY ADVENTURES.