Best 1939 Adventures (4)
By: Joshua Glenn
July 5, 2019
One in a series of 10 posts identifying Josh Glenn's favorite 1939 adventure novels.
*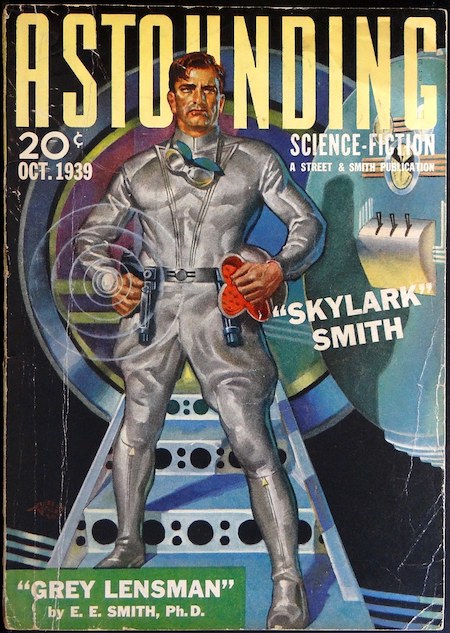 E.E. "Doc" Smith's Lensman sf adventure Grey Lensman (serialized, 1939; in book form, 1951).
Picking up where Galactic Patrol (serialized 1937) left off, shortly after Unattached ("Gray") Lensman Kimball Kinnison's attack on a secret base of the Boskonian space-criminals/conquerors who've been threatening Civilization, Grey Lensman introduces new characters, new planets, and a new villainous race: Lovecraftian horrors known as the Eich. The frame of Smith's already ambitious tale expands dramatically, here; it's a startling way to kick off what could have been a straightforward sequel. This novel has everything we've come to expect of Smith: space battles, melodramatic adventure, and chivalric romance — with Clarissa MacDougall, who in Second Stage Lensmen will become Civilization's first female Lensman. (A Lensman is a genetically enhanced bearer of the "Lens," an alien technology that bestows telepathic and other powers on a worthy user; it's incontrovertible that DC Comics' Green Lantern Corps was a Lensman ripoff.) Mounting an expedition aboard the super-dreadnought Dauntless into the so-called Second Galaxy, Kinnison brings an entire planet home. He then goes undercover and infiltrates Boskonian drug trafficking until he learns the location of the trafficker's galactic jefe, and then the location of the Eich; also, he works with the galaxy's greatest scientists to develop a "Negasphere." Kinnison and his reptilian comrade Worsel will use this planet-busting weapon — but not before our hero is blinded, tortured almost to death, and loses his limbs! Thrilling stuff, but also elegantly written.
Fun facts: Originally, the series consisted of the four novels Galactic Patrol, Gray Lensman, Second Stage Lensmen, and Children of the Lens, serialized between 1937 and 1948 in the pulp magazine Astounding Stories. Triplanetary (serialized 1934) was reworked to serve as as the first of two prequels to the series; and First Lensman (1950) was written to act as a link between Triplanetary and Galactic Patrol.
***
JOSH GLENN'S *BEST ADVENTURES* LISTS: BEST 250 ADVENTURES OF THE 20TH CENTURY | 100 BEST OUGHTS ADVENTURES | 100 BEST RADIUM AGE (PROTO-)SCI-FI ADVENTURES | 100 BEST TEENS ADVENTURES | 100 BEST TWENTIES ADVENTURES | 100 BEST THIRTIES ADVENTURES | 75 BEST GOLDEN AGE SCI-FI ADVENTURES | 100 BEST FORTIES ADVENTURES | 100 BEST FIFTIES ADVENTURES | 100 BEST SIXTIES ADVENTURES | 75 BEST NEW WAVE SCI FI ADVENTURES | 100 BEST SEVENTIES ADVENTURES | 100 BEST EIGHTIES ADVENTURES | 75 BEST DIAMOND AGE SCI-FI ADVENTURES | 100 BEST NINETIES ADVENTURES (in progress) | 1994 | 1995 | 1996 | 1997 | 1998 | 1999 | 2000 | 2001 | 2002 | 2003 | NOTES ON 21st-CENTURY ADVENTURES.