Best 1934 Adventures (9)
By: Joshua Glenn
June 13, 2019
One in a series of 10 posts identifying Josh Glenn's favorite 1934 adventure novels.
*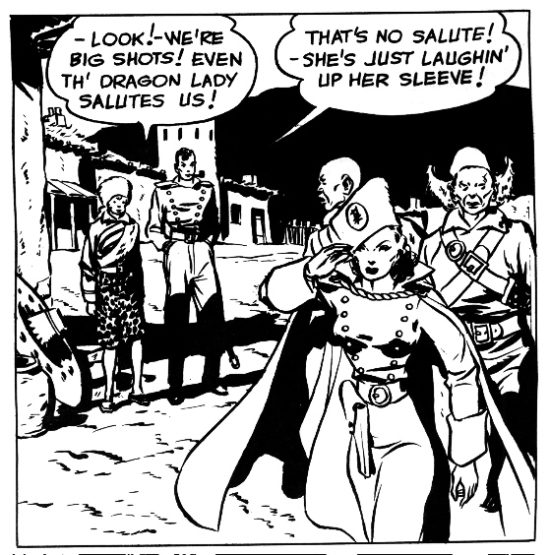 Milton Caniff's picaresque adventure comic strip Terry and the Pirates (1934–1946).
Terry Lee, a bright-eyed teenager, and his mentor, the handsome but hot-tempered writer and adventurer Pat Ryan, arrive in China in search of a lost gold mine. Connie, a buck-toothed, pidgin English-spouting comical character, becomes their interpreter and guide as they tangle with pirates, warlords, and other villains such as Papa Pyzon, Captain Judas, Klang, and the cold-hearted but beautiful Dragon Lady. This stereotypical fantasy, whose premise was lifted directly from Caniff's previous strip, Dickie Dare, improved after the first year or so once the artist, who shared a New York studio with Noel Sickles (creator of the Scorchy Smith strip), learned from Sickles the art of chiaroscuro — emphasizing drama and atmosphere through dark and light contrasts. Pacing his plots like the adventure serials which ran in movie theaters, and conducting meticulous research into Chinese current events, Caniff gave us one of the greatest adventure strips of all time. In 1937, when a dispute between Japanese and Chinese troops escalated into the battle that marked the beginning of World War II, Caniff turned the Dragon Lady into a freedom fighter; once the United States joined the war, Ryan joined the Navy. Terry, meanwhile, unlike other comic-strip kids, grew older and more mature until he was the strip's hero. Terry and the Pirates was a massively popular success, thanks in no small part to Caniff's strong, sultry female characters, including the blonde con artist Burma.
Fun facts: Terry and the Pirates influenced everyone from Hugo Pratt and Jack Kirby to Mike Mignola and Frank Miller; Caniff has been called "the Rembrandt of the comic strip." A radio serial based on the comic was broadcast three days a week by NBC between 1937 and 1939, and again in 1941–1942 and 1943–1948. Seeking creative control of his own work, Caniff left the strip in 1946, and started Steve Canyon, which was published until the author's death in 1988.
***
JOSH GLENN'S *BEST ADVENTURES* LISTS: BEST 250 ADVENTURES OF THE 20TH CENTURY | 100 BEST OUGHTS ADVENTURES | 100 BEST RADIUM AGE (PROTO-)SCI-FI ADVENTURES | 100 BEST TEENS ADVENTURES | 100 BEST TWENTIES ADVENTURES | 100 BEST THIRTIES ADVENTURES | 75 BEST GOLDEN AGE SCI-FI ADVENTURES | 100 BEST FORTIES ADVENTURES | 100 BEST FIFTIES ADVENTURES | 100 BEST SIXTIES ADVENTURES | 75 BEST NEW WAVE SCI FI ADVENTURES | 100 BEST SEVENTIES ADVENTURES | 100 BEST EIGHTIES ADVENTURES | 75 BEST DIAMOND AGE SCI-FI ADVENTURES | 100 BEST NINETIES ADVENTURES (in progress) | 1994 | 1995 | 1996 | 1997 | 1998 | 1999 | 2000 | 2001 | 2002 | 2003 | NOTES ON 21st-CENTURY ADVENTURES.