Best 1934 Adventures (8)
By: Joshua Glenn
June 12, 2019
One in a series of 10 posts identifying Josh Glenn's favorite 1934 adventure novels.
*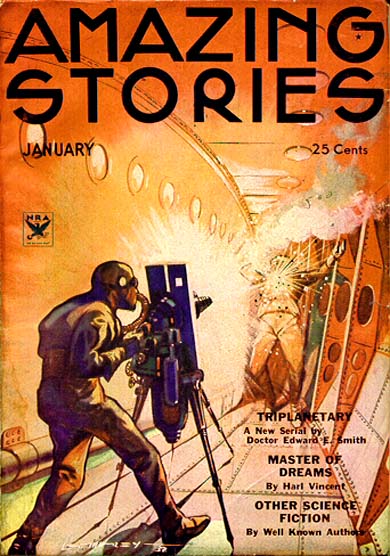 E.E. "Doc" Smith's Triplanetary (serialized 1934, in Amazing Stories; as a book, 1948).
As two super-races battle for control of the universe, a backward planet in a remote galaxy has become their battleground. One race, the Eddorians, influences Earthlings to fail; but the Arisians influence Earthlings to transcend their limitations. (The battle has been going on for millennia: for example, it led to the sinking of Atlantis. Jack Kirby's epic concept — in The Eternals — about the genetic experimentations of the alien Celestials, using Earth as a laboratory — owes a large debt to Smith.) After World War III, the Arisian influence begins to predominate; humankind explores space, and forms a Triplanetary League: Venus, Earth, and Mars. Against this cosmic backdrop, we follow the adventures of secret agent Conway Costigan and the beautiful and heroic Clio Marsden, who are captured by amphibian aliens — an advance patrol looking to harvest Earth's iron ore. We also learn that the Arisians have been supervising two bloodlines, culminating in the superheroic Kim Kinninson and Clarissa MacDougall; their children, we'll discover in Smith's Lensman series, become humankind's protectors. Bespite the pulpiness of the writing, Triplanetary is worth a read. Without it, no Star Wars, no Dune.
Fun facts: After the original four novels of the Lensman series (Galactic Patrol, Gray Lensman, Second Stage Lensmen, Children of the Lens) were published (1937–1948), Smith expanded and reworked Triplanetary as a series prequel. While writing these books, Smith worked full-time as a food scientist — for a doughnut company.
***
JOSH GLENN'S *BEST ADVENTURES* LISTS: BEST 250 ADVENTURES OF THE 20TH CENTURY | 100 BEST OUGHTS ADVENTURES | 100 BEST RADIUM AGE (PROTO-)SCI-FI ADVENTURES | 100 BEST TEENS ADVENTURES | 100 BEST TWENTIES ADVENTURES | 100 BEST THIRTIES ADVENTURES | 75 BEST GOLDEN AGE SCI-FI ADVENTURES | 100 BEST FORTIES ADVENTURES | 100 BEST FIFTIES ADVENTURES | 100 BEST SIXTIES ADVENTURES | 75 BEST NEW WAVE SCI FI ADVENTURES | 100 BEST SEVENTIES ADVENTURES | 100 BEST EIGHTIES ADVENTURES | 75 BEST DIAMOND AGE SCI-FI ADVENTURES | 100 BEST NINETIES ADVENTURES (in progress) | 1994 | 1995 | 1996 | 1997 | 1998 | 1999 | 2000 | 2001 | 2002 | 2003 | NOTES ON 21st-CENTURY ADVENTURES.