Best 1934 Adventures (6)
By: Joshua Glenn
June 10, 2019
One in a series of 10 posts identifying Josh Glenn's favorite 1934 adventure novels.
*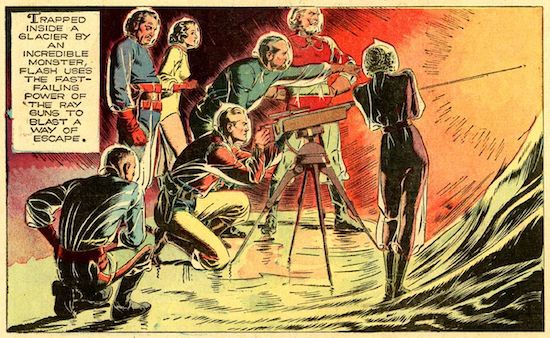 Alex Raymond's sci-fi adventure comic strip Flash Gordon (1934–1943).
When Earth is threatened by a collision with the rogue planet Mongo, the brilliant, half-mad Dr. Zarkov builds a rocket ship, kidnaps polo player Flash Gordon and the beautiful Dale Arden, and heads out into space. The backstory of this popular Sunday newspaper strip was lifted from the 1932 sci-fi novel When Worlds Collide; everything else — the adventures of Flash and Dale among the various kingdoms (forest, jungle, undersea, ice, flying) and humanoid species of Mongo, warlord Ming the Merciless's obsession with Dale and his daughter Princess Aura's infatuation with Flash, and various tyrants and fascists, is pure pulp. What sets Flash Gordon apart is Raymond's rich, sensual, dimensionalized artwork — inspired by magazine illustration. Raymond stopped using speech balloons, reduced the number of panels in each strip while increasing their size, worked from models striking heroic and romantic poses, and indulged in elaborate shading… he was the Howard Pyle or N.C. Wyeth of newspaper cartooning. Jack Kirby, Russ Manning, and others were fans; the look of costumed heroes to follow, including Batman and Superman, were directly inspired by Flash Gordon. Raymond's work, on this strip and the spy adventure Secret Agent X-9, remains a pleasure to peruse.
Fun facts: Flash Gordon was featured in three serial films starring Buster Crabbe: Flash Gordon (1936), Flash Gordon's Trip to Mars (1938), and Flash Gordon Conquers the Universe (1940); it wasn't until George Lucas failed to acquire the movie rights to the character (from Dino De Laurentiis) that he created Star Wars instead. The 1980 Flash Gordon movie is silly fun.
***
JOSH GLENN'S *BEST ADVENTURES* LISTS: BEST 250 ADVENTURES OF THE 20TH CENTURY | 100 BEST OUGHTS ADVENTURES | 100 BEST RADIUM AGE (PROTO-)SCI-FI ADVENTURES | 100 BEST TEENS ADVENTURES | 100 BEST TWENTIES ADVENTURES | 100 BEST THIRTIES ADVENTURES | 75 BEST GOLDEN AGE SCI-FI ADVENTURES | 100 BEST FORTIES ADVENTURES | 100 BEST FIFTIES ADVENTURES | 100 BEST SIXTIES ADVENTURES | 75 BEST NEW WAVE SCI FI ADVENTURES | 100 BEST SEVENTIES ADVENTURES | 100 BEST EIGHTIES ADVENTURES | 75 BEST DIAMOND AGE SCI-FI ADVENTURES | 100 BEST NINETIES ADVENTURES (in progress) | 1994 | 1995 | 1996 | 1997 | 1998 | 1999 | 2000 | 2001 | 2002 | 2003 | NOTES ON 21st-CENTURY ADVENTURES.