Best 1932 Adventures (6)
By: Joshua Glenn
April 10, 2017
One in a series of 10 posts identifying Josh Glenn's favorite 1932 adventure novels. Happy 85th anniversary!
*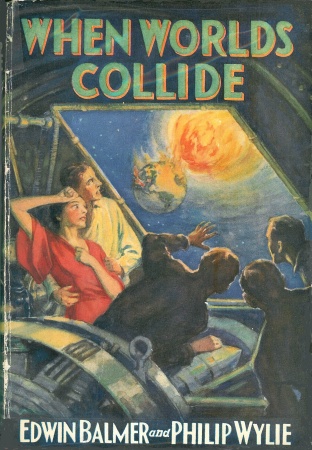 Edwin Balmer and Philip Gordon Wylie's Radium Age sci-fi adventure When Worlds Collide.
Two rogue planets are entering the sun's orbit! The League of the Last Days — an international band of 1,000 brilliant scientists, action heroes, and fertile women (I exaggerate, but not much) — hatch a desperate plan, and set about designing, constructing, and outfitting rocket-arks. We are treated to two terrifying apocalyptic scenes: One, when the rogue planets first pass by the Earth, triggering stupendous cataclysms; and the other, when worlds collide: "The very Earth bulged… It became plastic. It was drawn out egg-shaped. The cracks girdled the globe. A great section of the Earth itself lifted up and peeled away…." But it's the post-apocalyptic scenes that are the most haunting: a deserted Chicago whose skyscrapers are knocked out of plumb; violent, half-naked mobs battling the National Guard in Pittsburgh; an army of hate-filled Midwesterners that nearly succeeds in wrecking the rocket-ship project. Sequel: After Worlds Collide (1934).
Fun facts: The book influenced the strip Flash Gordon, while Siegel & Shuster lifted key ideas from both When Worlds Collide and Wylie's earlier SF novel, Gladiator when they created Superman. George Pal's 1951 movie adaptation of Worlds is a sci-fi classic.
***
Let me know if I've missed any 1932 adventures that you particularly admire.