Best 1934 Adventures (4)
By: Joshua Glenn
June 8, 2019
One in a series of 10 posts identifying Josh Glenn's favorite 1934 adventure novels.
*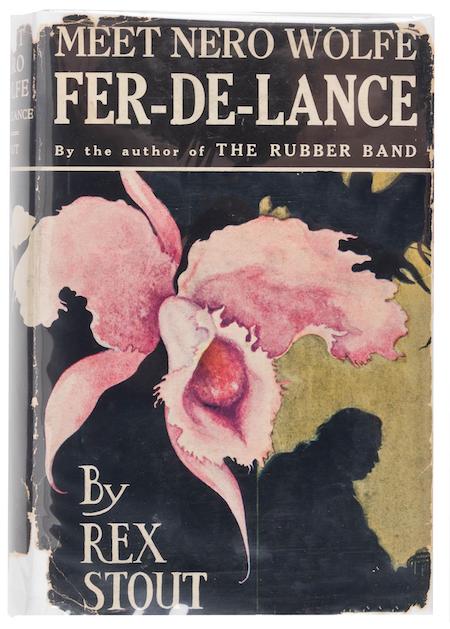 Rex Stout's Nero Wolfe/Archie Goodwin crime adventure Fer-de-Lance.
"Where's the beer?" These are the first words uttered by Stout's armchair sleuth Nero Wolfe. He's a hothouse flower: a foreign-born, morbidly obese, bibulous, long-winded idler and bookworm who rarely leaves his brownstone on New York's West 35th Street. His amanuensis, Archie Goodwin, a dapper, muscular, streetwise American private eye and mnemonist, acts as Wolfe's eyes and ears — bringing back crime-scene details, and the occasional unwilling suspect, to the brownstone; he's also the narrator of these stories. (This duo is Stout's dramatization, perhaps, of the complementarity of Highbrow and Lowbrow dispositions.) In this, Wolfe's first recorded case, he's asked to look into the disappearance of a metal artisan who has disappeared on the eve of his return home to Italy… which, it turns out, may have something to do with the death of a college president while playing golf in the countryside outside New York. Wolfe susses out the situation quickly… then engages in a battle of wits with the killer, setting a trap while seeking to avoid being killed himself. (Note that a fer-de-lance is a poisonous South American snake.) The story is marred by casual racism, and a bit too much denouement after the murderer's identity is revealed, but it's revelatory to encounter the now legendary detective for the first time.
Fun facts: The novel appeared in abridged form in The American Magazine in 1934; and it was adapted as a 1936 movie, Meet Nero Wolfe, starring the corpulent character actor Edward Arnold. Before his death in 1975, Stout would write 33 novels and 39 novellas and short stories about Wolfe and Goodwin.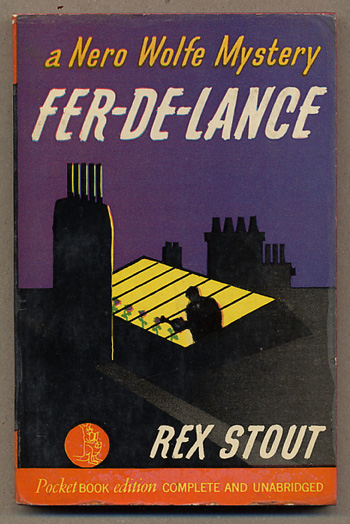 ***
JOSH GLENN'S *BEST ADVENTURES* LISTS: BEST 250 ADVENTURES OF THE 20TH CENTURY | 100 BEST OUGHTS ADVENTURES | 100 BEST RADIUM AGE (PROTO-)SCI-FI ADVENTURES | 100 BEST TEENS ADVENTURES | 100 BEST TWENTIES ADVENTURES | 100 BEST THIRTIES ADVENTURES | 75 BEST GOLDEN AGE SCI-FI ADVENTURES | 100 BEST FORTIES ADVENTURES | 100 BEST FIFTIES ADVENTURES | 100 BEST SIXTIES ADVENTURES | 75 BEST NEW WAVE SCI FI ADVENTURES | 100 BEST SEVENTIES ADVENTURES | 100 BEST EIGHTIES ADVENTURES | 75 BEST DIAMOND AGE SCI-FI ADVENTURES | 100 BEST NINETIES ADVENTURES (in progress) | 1994 | 1995 | 1996 | 1997 | 1998 | 1999 | 2000 | 2001 | 2002 | 2003 | NOTES ON 21st-CENTURY ADVENTURES.