Best 1924 Adventures (6)
By: Joshua Glenn
April 23, 2019
One in a series of 10 posts identifying Josh Glenn's favorite 1924 adventure novels. Happy 95th anniversary!
*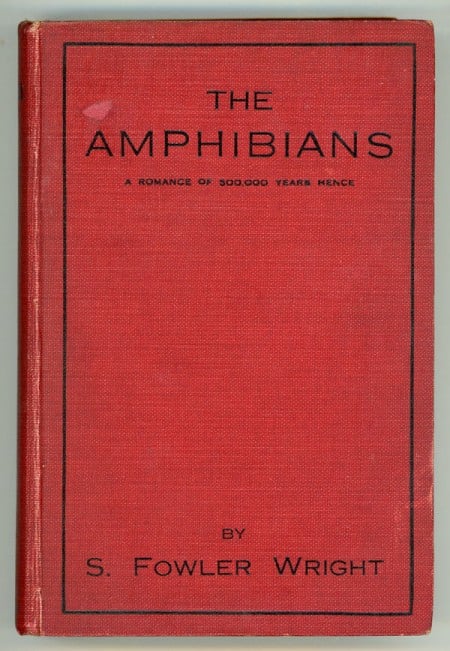 S. Fowler Wright's Radium Age sci-fi adventure The Amphibians (serialized 1924–1925).
Half a million years from now, George, a time-traveling human — yes, he's read H.G. Wells's The Time Machine — discovers that the Earth's dominant intelligent species are the Dwellers (giant troglodytic humanoids self-destructively devoted to science) and the Amphibians (otter-like, telepathic creatures who are morally more evolved than humans). Humankind as we know it, it seems, was not the endpoint of evolution — only a stage to overcome. In search of two previous time travelers who've failed to return, George is befriended by a peaceful, gender-fluid Amphibian who regards him as a puzzling, limited, violently emotional, rather grotesque and pathetic creature. This Kirk-and-Spock duo traverses the future Earth — a landscape of nightmarish, carnivorous flora and fauna, the depiction of which was no doubt influenced by Wright's translation of Dante's Inferno — while debating social, cultural, economic, and moral questions. Eventually, George comes to agree with the Amphibian regarding 20th-century humankind's foibles; the book's overall message is more or less a libertarian or anarchistic one. All living creatures are capable of harmony and freedom, if only we'd stop being assholes. The story ends abruptly, with no sign of the missing time travelers; in 1929, Wright published The World Below, which adds a sequel — titled The Dwellers — to The Amphibians. A third installment was never completed.
Fun fact: Wright was one of the key figures in the tradition of British scientific romance; Everett F. Bleiler calls The World Below "undoubtedly the major work of science fiction between the early Wells and the moderns." Wright's family maintains an impressive website featuring his poetry and fiction.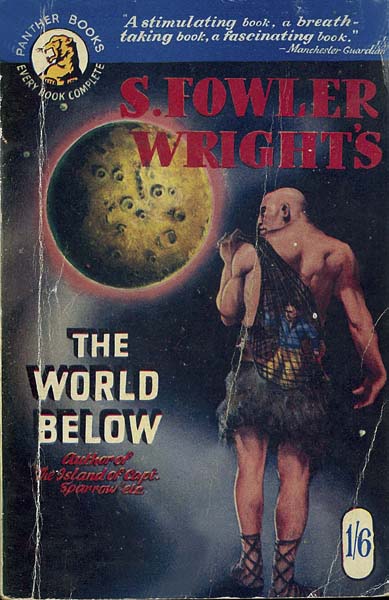 ***
JOSH GLENN'S *BEST ADVENTURES* LISTS: BEST 250 ADVENTURES OF THE 20TH CENTURY | 100 BEST OUGHTS ADVENTURES | 100 BEST RADIUM AGE (PROTO-)SCI-FI ADVENTURES | 100 BEST TEENS ADVENTURES | 100 BEST TWENTIES ADVENTURES | 100 BEST THIRTIES ADVENTURES | 75 BEST GOLDEN AGE SCI-FI ADVENTURES | 100 BEST FORTIES ADVENTURES | 100 BEST FIFTIES ADVENTURES | 100 BEST SIXTIES ADVENTURES | 75 BEST NEW WAVE SCI FI ADVENTURES | 100 BEST SEVENTIES ADVENTURES | 100 BEST EIGHTIES ADVENTURES | 75 BEST DIAMOND AGE SCI-FI ADVENTURES | 100 BEST NINETIES ADVENTURES (in progress) | 1994 | 1995 | 1996 | 1997 | 1998 | 1999 | 2000 | 2001 | 2002 | 2003 | NOTES ON 21st-CENTURY ADVENTURES.