Best 1924 Adventures (3)
By: Joshua Glenn
April 20, 2019
One in a series of 10 posts identifying Josh Glenn's favorite 1924 adventure novels. Happy 95th anniversary!
*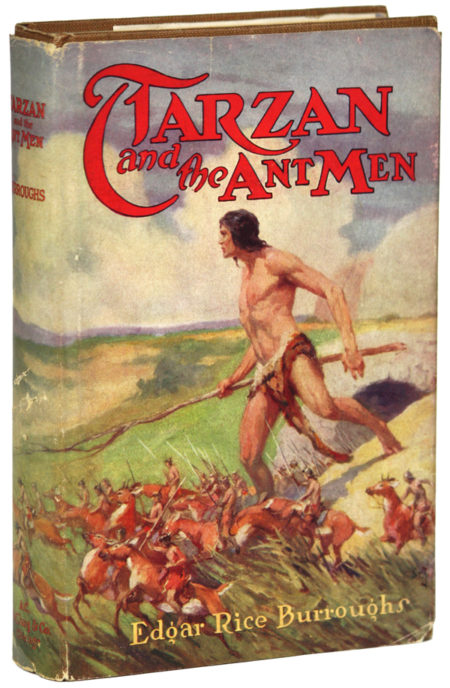 Edgar Rice Burroughs's Radium Age sci-fi/Tarzan adventure Tarzan and the Ant Men.
I've always been fond of the oddball, later Tarzan adventures — this is the 10th in the series. Here, Tarzan stumbles upon a lost tribe — the Minuni, normally proportioned Caucasian humans who happen to be 18 inches tall, and who are divided into civilized, advanced yet rivalrous city states. (Shades of the Lilliputians and Blefuscudians, in Gulliver's Travels.) They are ferocious warriors, who ride on small antelopes; and they live in beehive-like structures. The Minuni practice slavery, but according to their tradition, members of the royal family may only marry and breed with slaves… which has led to the practice of raiding one another's cities, enslaving beautiful women, and marrying them. Tarzan befriends the king, Adendrohahkis, and the prince, Komodoflorensal, of one such city-state, called Trohanadalmakus; he is captured in battle by the Veltopismakusians, whose brilliant scientist uses vibration-disks to shrink Tarzan down to their size. Like DC's The Atom, who wouldn't make his comic-book debut until 1961, Tarzan retains his full-size strength — which makes him a kind of superhero figure among the Minuni. This is the last novel in the sequence that began with Tarzan the Untamed (1919–1920), in which Burroughs' imagination and storytelling abilities are at their peak; it's a fan favorite — Harper Lee describes Scout reading it in To Kill A Mockingbird.
Fun facts: First published as a seven-part serial in Argosy All-Story Weekly, and published in book form the same year. The book was adapted into comic form by Gold Key Comics in Tarzan nos. 174-175 (June–July 1969), with art by Russ Manning.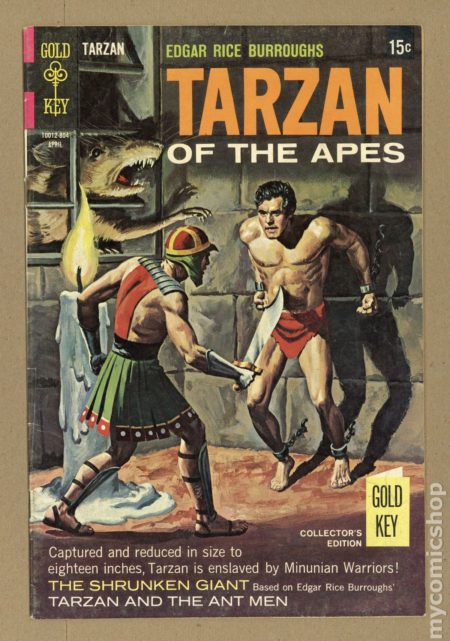 ***
JOSH GLENN'S *BEST ADVENTURES* LISTS: BEST 250 ADVENTURES OF THE 20TH CENTURY | 100 BEST OUGHTS ADVENTURES | 100 BEST RADIUM AGE (PROTO-)SCI-FI ADVENTURES | 100 BEST TEENS ADVENTURES | 100 BEST TWENTIES ADVENTURES | 100 BEST THIRTIES ADVENTURES | 75 BEST GOLDEN AGE SCI-FI ADVENTURES | 100 BEST FORTIES ADVENTURES | 100 BEST FIFTIES ADVENTURES | 100 BEST SIXTIES ADVENTURES | 75 BEST NEW WAVE SCI FI ADVENTURES | 100 BEST SEVENTIES ADVENTURES | 100 BEST EIGHTIES ADVENTURES | 75 BEST DIAMOND AGE SCI-FI ADVENTURES | 100 BEST NINETIES ADVENTURES (in progress) | 1994 | 1995 | 1996 | 1997 | 1998 | 1999 | 2000 | 2001 | 2002 | 2003 | NOTES ON 21st-CENTURY ADVENTURES.