Best 1914 Adventures (10)
By: Joshua Glenn
April 13, 2019
One in a series of 10 posts identifying Josh Glenn's favorite 1914 adventure novels. Happy 105th anniversary!
*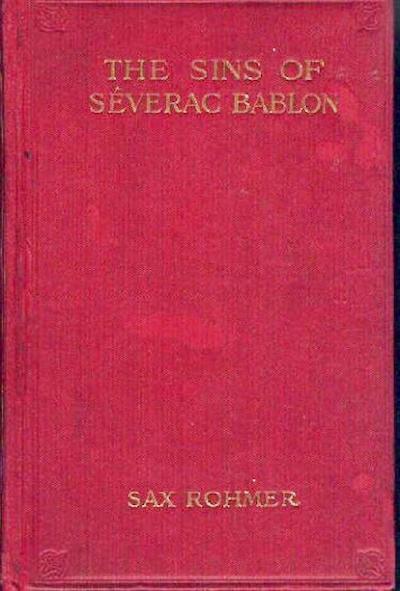 Sax Rohmer's crime adventure The Sins of Séverac Bablon.
The Mystery of Dr. Fu-Manchu, Sax Rohmer's first novel, and an immediate success, was published in 1913; the following year, he published this yarn about another mysterious "Eastern" villain — Severac Bablon, a half-Jewish extortionist and blackmailer who targets London's wealthiest businessmen. Offensive? Yes and no. As it turns out, Bablon is a Robin Hood-esque figure who seeks to repair the reputation of Jewish people, among anti-Semitic Britons, by "persuading" wealthy Jews to donate large sums of money to the poor, and to fund England's upcoming war effort rather than loaning money to England's enemies. But isn't it offensive to portray Jews as miserly financiers? Yes, for sure — but Rohmer's story depicts a variety of wealthy Jews, some of whom are already compassionate and patriotic. Even Bablon's less generous victims aren't particularly miserly — they're libertarians, basically. The story is narrated by Tom Sheard, a Fleet Street reporter and friend of Bablon's who comes along for the ride. Bablon is able to command the loyalty of Jews around the world, in his quixotic struggle; and it is this — the notion that Jews form a secret nation-within-nations — that is the most offensive aspect of the story. In the end, however, the reader roots for Bablon, who one suspects must have been an influence on Leslie Charteris's Robin Hood-like criminal character, The Saint.
Fun facts: Rohmer, the son of Irish immigrant parents who moved to London in 1886, had an ambition to serve in the Civil Service in the East. On failing the entrance examination, he instead began writing songs and fiction.
***
JOSH GLENN'S *BEST ADVENTURES* LISTS: BEST 250 ADVENTURES OF THE 20TH CENTURY | 100 BEST OUGHTS ADVENTURES | 100 BEST RADIUM AGE (PROTO-)SCI-FI ADVENTURES | 100 BEST TEENS ADVENTURES | 100 BEST TWENTIES ADVENTURES | 100 BEST THIRTIES ADVENTURES | 75 BEST GOLDEN AGE SCI-FI ADVENTURES | 100 BEST FORTIES ADVENTURES | 100 BEST FIFTIES ADVENTURES | 100 BEST SIXTIES ADVENTURES | 75 BEST NEW WAVE SCI FI ADVENTURES | 100 BEST SEVENTIES ADVENTURES | 100 BEST EIGHTIES ADVENTURES | 75 BEST DIAMOND AGE SCI-FI ADVENTURES | 100 BEST NINETIES ADVENTURES (in progress) | 1994 | 1995 | 1996 | 1997 | 1998 | 1999 | 2000 | 2001 | 2002 | 2003 | NOTES ON 21st-CENTURY ADVENTURES.