Best 1914 Adventures (8)
By: Joshua Glenn
April 11, 2019
One in a series of 10 posts identifying Josh Glenn's favorite 1914 adventure novels. Happy 105th anniversary!
*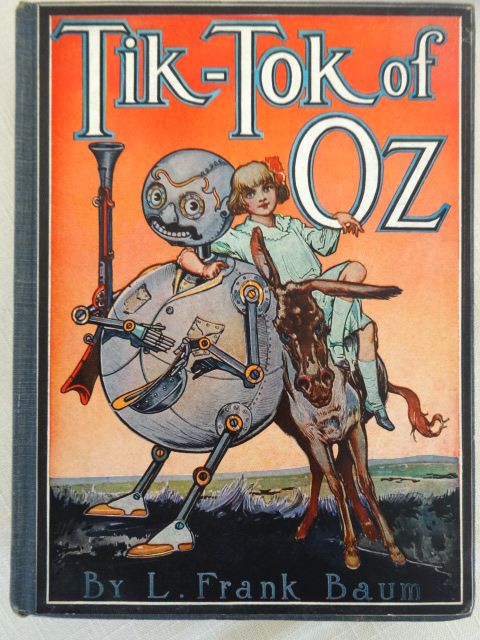 L. Frank Baum's Oz fantasy adventure Tik-Tok of Oz.
Tik-Tok, a "Patent Double-Action, Extra-Responsive, Thought-Creating, Perfect-Talking Mechanical Man Fitted with out Special Clock-Work Attachment," made his début in Ozma of Oz (1907). In the eighth Oz book, the plot of which Baum based on his 1913 play of the same title, Tik-Tok joins an anti-Nome King strike force composed of the principled hobo Shaggy Man and the cloud fairy Polychrome, both of whom first appeared in 1909's The Road to Oz; the newly plucked Rose Princess Ozga, a cousin of Ozma's; the small army of Queen Ann Soforth of Oogaboo; and Betsy Bobbin and her mule Hank — a last-minute substitute for the characters Dorothy Gale and Toto, who were contractually unavailable to Baum for theatrical purposes. When the Nome King sends this ragtag army through his Hollow Tube to the jurisdiction of Tittiti-Hoochoo, the powerful jinjin sends them right back again with an Instrument of Vengeance: Quox, a less-than-impressive dragon. The battle is on! Will the Shaggy Man find his missing brother — and if so, can he free him from the Nome King's spell?
Fun facts: The endpapers of the first edition of Tik-Tok of Oz feature the first maps printed of Oz and its neighboring countries. Unfortunately, the map of Oz was drawn backwards, which has caused confusion ever since.
***
JOSH GLENN'S *BEST ADVENTURES* LISTS: BEST 250 ADVENTURES OF THE 20TH CENTURY | 100 BEST OUGHTS ADVENTURES | 100 BEST RADIUM AGE (PROTO-)SCI-FI ADVENTURES | 100 BEST TEENS ADVENTURES | 100 BEST TWENTIES ADVENTURES | 100 BEST THIRTIES ADVENTURES | 75 BEST GOLDEN AGE SCI-FI ADVENTURES | 100 BEST FORTIES ADVENTURES | 100 BEST FIFTIES ADVENTURES | 100 BEST SIXTIES ADVENTURES | 75 BEST NEW WAVE SCI FI ADVENTURES | 100 BEST SEVENTIES ADVENTURES | 100 BEST EIGHTIES ADVENTURES | 75 BEST DIAMOND AGE SCI-FI ADVENTURES | 100 BEST NINETIES ADVENTURES (in progress) | 1994 | 1995 | 1996 | 1997 | 1998 | 1999 | 2000 | 2001 | 2002 | 2003 | NOTES ON 21st-CENTURY ADVENTURES.