Best 1914 Adventures (7)
By: Joshua Glenn
April 10, 2019
One in a series of 10 posts identifying Josh Glenn's favorite 1914 adventure novels. Happy 105th anniversary!
*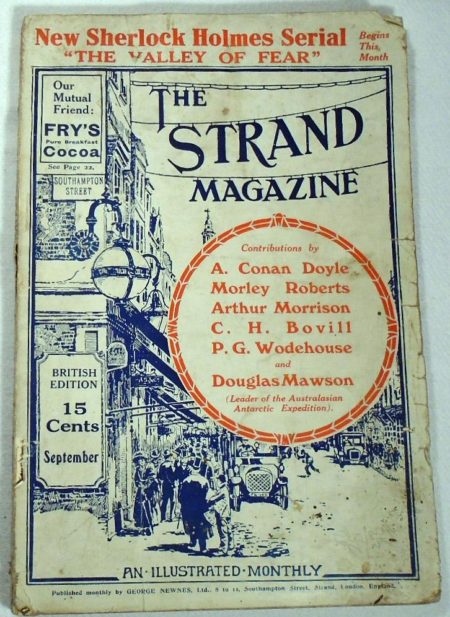 Arthur Conan Doyle's Sherlock Holmes adventure The Valley of Fear.
The fourth and final Sherlock Holmes adventure is loosely based on the Molly Maguires, an Irish secret society known for their sometimes violent activism among Irish-American and Irish immigrant coal miners in Pennsylvania, and Pinkerton agent James McParland, who infiltrated the Molly Maguires. Holmes receives a cipher message from a turncoat agent of Professor Moriarty, the machiavellian criminal mastermind whom nobody but Holmes believes to be evil. After cracking the cipher, Holmes and Watson investigate the murder of John Douglas of Birlstone Manor House, in Sussex. The dead man's forearm is branded with a curious design, a triangle within a circle; and he had been known to speak of "The Valley of Fear," perhaps a place in America from which he'd fled. Watson finds the dead man's widow and his best friend laughing merrily in the garden. Not all is as it seems, with the murder, and once Holmes gets to the bottom of it, he learns that Douglas was once a Pinkerton detective in Chicago, who'd infiltrated a murderous gang in Chicago, and brought them to justice. Although Holmes doesn't appear in this back-story, it's exciting stuff.
Fun facts: The story was first published in the Strand Magazine between September 1914 and May 1915; it was published in book form in 1915. While one might expect to sympathize with the Irish gang in their struggle against the mining companies, Douglas's story portrays them as ruthless criminals who exploit both workers and wealthy capitalists alike.
***
JOSH GLENN'S *BEST ADVENTURES* LISTS: BEST 250 ADVENTURES OF THE 20TH CENTURY | 100 BEST OUGHTS ADVENTURES | 100 BEST RADIUM AGE (PROTO-)SCI-FI ADVENTURES | 100 BEST TEENS ADVENTURES | 100 BEST TWENTIES ADVENTURES | 100 BEST THIRTIES ADVENTURES | 75 BEST GOLDEN AGE SCI-FI ADVENTURES | 100 BEST FORTIES ADVENTURES | 100 BEST FIFTIES ADVENTURES | 100 BEST SIXTIES ADVENTURES | 75 BEST NEW WAVE SCI FI ADVENTURES | 100 BEST SEVENTIES ADVENTURES | 100 BEST EIGHTIES ADVENTURES | 75 BEST DIAMOND AGE SCI-FI ADVENTURES | 100 BEST NINETIES ADVENTURES (in progress) | 1994 | 1995 | 1996 | 1997 | 1998 | 1999 | 2000 | 2001 | 2002 | 2003 | NOTES ON 21st-CENTURY ADVENTURES.