Best 1914 Adventures (5)
By: Joshua Glenn
April 8, 2019
One in a series of 10 posts identifying Josh Glenn's favorite 1914 adventure novels. Happy 105th anniversary!
*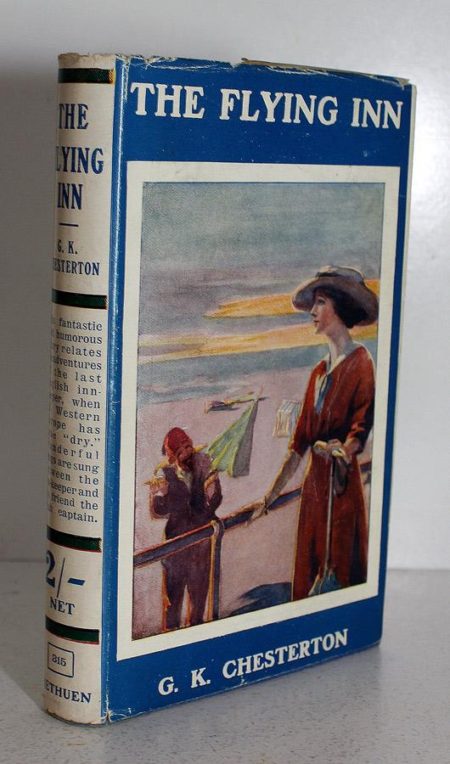 G.K. Chesterton's The Flying Inn (1914).
When a British politician, Lord Ivywood, sets out to Islamize Great Britain — so that he can enjoy the benefits of polygamy — he enlists the assistance of the nation's "smart set," who are all too eager to embrace trendy, Eastern "fads." Among other changes, Ivywood pushes through laws requiring that alcohol only be sold by an inn displaying a sign… and banning inn signs. In an act of populist defiance, Captain Patrick Dalroy, a hard-drinking Irish giant, and Humphrey Pump, dispossessed landlord of one of the shuttered English inns, take to roaming the countryside with a cart (later, a motorcar) full of rum, a tavern sign, and an enormous wheel of cheese. Meanwhile, we discover that Ivywood is bent on destroying Christianity and Western culture… and that he is smuggling a Turkish army into England! Chesterton, alas, is the original pamphleteer for Brexit; this novel is an Islamophobic lament for an England besieged by theosophists, vegetarians, and xenophiles. It is offensive in its refusal to take other cultures seriously… though the poetry about England and weird drinking songs are pretty entertaining. "Tea, although an Oriental,/Is a gentleman at least;/Cocoa is a cad and coward,/Cocoa is a vulgar beast."
Fun fact: According to some critics, Chesterton makes readers complicit in an architecture of unquestioned privilege and received prejudice. Others see it as a folksy riposte to the political left's attraction to the quasi-mysticism of the East. You decide!
***
JOSH GLENN'S *BEST ADVENTURES* LISTS: BEST 250 ADVENTURES OF THE 20TH CENTURY | 100 BEST OUGHTS ADVENTURES | 100 BEST RADIUM AGE (PROTO-)SCI-FI ADVENTURES | 100 BEST TEENS ADVENTURES | 100 BEST TWENTIES ADVENTURES | 100 BEST THIRTIES ADVENTURES | 75 BEST GOLDEN AGE SCI-FI ADVENTURES | 100 BEST FORTIES ADVENTURES | 100 BEST FIFTIES ADVENTURES | 100 BEST SIXTIES ADVENTURES | 75 BEST NEW WAVE SCI FI ADVENTURES | 100 BEST SEVENTIES ADVENTURES | 100 BEST EIGHTIES ADVENTURES | 75 BEST DIAMOND AGE SCI-FI ADVENTURES | 100 BEST NINETIES ADVENTURES (in progress) | 1994 | 1995 | 1996 | 1997 | 1998 | 1999 | 2000 | 2001 | 2002 | 2003 | NOTES ON 21st-CENTURY ADVENTURES.