Best 1909 Adventures (10)
By: Joshua Glenn
March 11, 2019
One in a series of 10 posts identifying Josh Glenn's favorite 1909 adventure novels. Happy 110th anniversary!
*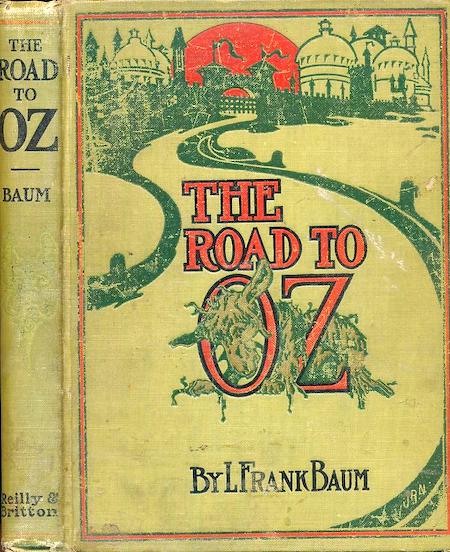 L. Frank Baum's Oz fantasy adventure The Road to Oz.
When Dorothy Gale — older and more sophisticated than she was when she first voyaged to Oz — meets a Shaggy Man walking past her family's farm, she and Toto volunteer to show him the way to the nearest town. The three find themselves in a meta-dimension along with other lost traveler. Button-Bright, a cute little boy who answers most questions with "Don't know" (and whose head is later changed into a fox's), will later appear in Baum's Trot & Cap'n Bill adventure Sky Island. Polychrome, daughter of the Rainbow, is a radiant young girl who must dance to stay warm. Can the adventurers cross the fatal Deadly Desert surrounding Oz and arrive in the Emerald City in time for Ozma's birthday party? The adventure itself is fairly tame — Baum was phoning it in, at this point — but the payoff is Ozma's meta-textual bash. The partygoers include not only Baum's Oz characters but Santa Claus, Ryls and Knooks (from The Life and Adventures of Santa Claus), Queen Zixi of Ix (from Queen Zixi of Ix, or The Story of the Magic Cloak), the Queen of Merryland (from Dot and Tot of Merryland), and John Dough from John Dough and the Cherub, among other non-Oz Baum characters. I enjoy this sort of thing, but not all readers do.
Fun facts: This is the fifth Oz book, and the only one to be printed on colored pages — which represent the signature colors of the various countries of Oz that Dorothy and her companions travel through. Baum's books were literally spectacular — designed to be enjoyed as gorgeous objects.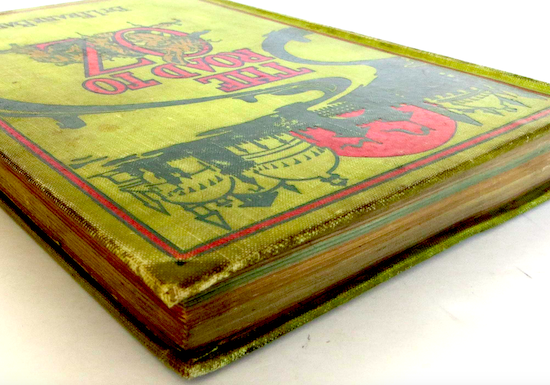 ***
JOSH GLENN'S *BEST ADVENTURES* LISTS: BEST 250 ADVENTURES OF THE 20TH CENTURY | 100 BEST OUGHTS ADVENTURES | 100 BEST RADIUM AGE (PROTO-)SCI-FI ADVENTURES | 100 BEST TEENS ADVENTURES | 100 BEST TWENTIES ADVENTURES | 100 BEST THIRTIES ADVENTURES | 75 BEST GOLDEN AGE SCI-FI ADVENTURES | 100 BEST FORTIES ADVENTURES | 100 BEST FIFTIES ADVENTURES | 100 BEST SIXTIES ADVENTURES | 75 BEST NEW WAVE SCI FI ADVENTURES | 100 BEST SEVENTIES ADVENTURES | 100 BEST EIGHTIES ADVENTURES | 75 BEST DIAMOND AGE SCI-FI ADVENTURES | 100 BEST NINETIES ADVENTURES (in progress) | 1994 | 1995 | 1996 | 1997 | 1998 | 1999 | 2000 | 2001 | 2002 | 2003 | NOTES ON 21st-CENTURY ADVENTURES.