Best 1969 Adventures (2)
By: Joshua Glenn
December 8, 2018
One in a series of 10 posts identifying Josh Glenn's favorite 1969 adventure novels. Happy (upcoming) 50th anniversary!
*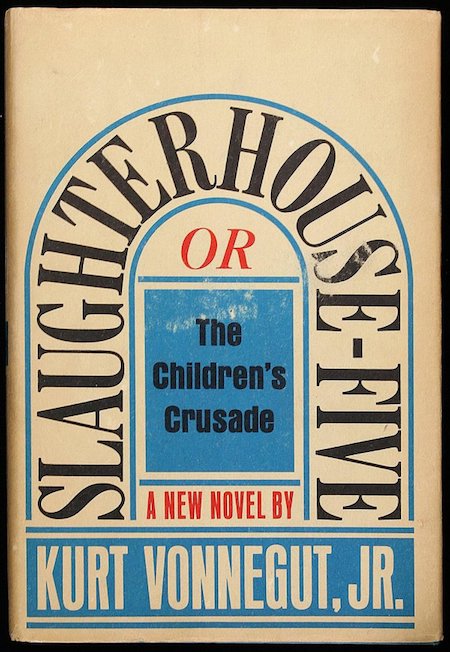 Kurt Vonnegut's Slaughterhouse-Five, or The Children's Crusade: A Duty-Dance with Death (1969).
Much like the bumbling protagonist of Jaroslav Hašek's pioneering antiwar novel The Good Soldier Švejk (1921–1923), Billy Pilgrim is an ill-trained, disoriented, cowardly chaplain's assistant. During the Battle of the Bulge in 1944, he is captured and transported to Dresden. In 1945, as British and American bombers dropped several thousand tons of high-explosive bombs and incendiary devices on the city, Pilgrim and his fellow prisoners and their guards take refuge in a cellar beneath Schlachthof-fünf, the titular "slaughterhouse five"; they are among the only survivors of the (still-controversial) attack. We experience all of this in flash-backs or flash-forwards, because Billy has become "unstuck in time," not to mention in space. At one point, years later, on his daughter's wedding night, Billy is captured by aliens and transported to Tralfamadore, the fatalistic residents of which can observe all points in the space-time continuum simultaneously. Like them, Billy becomes a philosophical ironist because — thanks to his time-traveling — the entire human experience strikes him as absurd. Is he crazy, or a visionary?
Fun facts: As a prisoner of war in 1945, Vonnegut experienced the Dresden firebombing; the narrator of Slaughterhouse-Five is the author, speaking in his own voice. The 1972 film adaptation, directed by George Roy Hill (in between directing Butch Cassidy and the Sundance Kid and The Sting), won the Prix du Jury at the 1972 Cannes Film Festival.
***
JOSH GLENN'S *BEST ADVENTURES* LISTS: BEST 250 ADVENTURES OF THE 20TH CENTURY | 100 BEST OUGHTS ADVENTURES | 100 BEST RADIUM AGE (PROTO-)SCI-FI ADVENTURES | 100 BEST TEENS ADVENTURES | 100 BEST TWENTIES ADVENTURES | 100 BEST THIRTIES ADVENTURES | 75 BEST GOLDEN AGE SCI-FI ADVENTURES | 100 BEST FORTIES ADVENTURES | 100 BEST FIFTIES ADVENTURES | 100 BEST SIXTIES ADVENTURES | 75 BEST NEW WAVE SCI FI ADVENTURES | 100 BEST SEVENTIES ADVENTURES | 100 BEST EIGHTIES ADVENTURES | 75 BEST DIAMOND AGE SCI-FI ADVENTURES | 100 BEST NINETIES ADVENTURES (in progress) | 1994 | 1995 | 1996 | 1997 | 1998 | 1999 | 2000 | 2001 | 2002 | 2003 | NOTES ON 21st-CENTURY ADVENTURES.