Best 1983 Adventures (5)
By: Joshua Glenn
November 9, 2018
One in a series of 10 posts identifying Josh Glenn's favorite 1983 adventure novels. Happy 35th anniversary!
*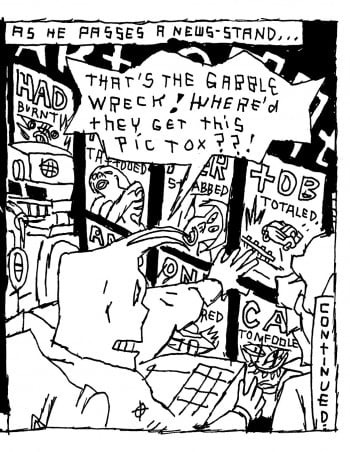 Gary Panter's comic strip Dal Tokyo (1983–2007).
Panter's Dal Tokyo — which is set on Mars, in a semi-dystopian city whose culture is a Dallas-Tokyo mashup — first appeared as a weekly strip in the L.A. Reader from 1983–1984, then as a monthly strip in a Japanese reggae magazine from 1996 to 2007. The sidewalks and alleys of Dal Tokyo teem with punks, aliens, mutants, Sepaloids, Cubist girls, and adorable manga characters. Rival advertising agencies engage in bloody combat; freelance peeping toms snap pho-toms of rich smog monsters having sex; and ant-men excavate classic cars from the surrounding desert, then melt them for the minerals they require to speak. Several plot-lines develop, over time: ex-dinosaur Nurse Barbie is at the center of a plot involving the university hospital and its evolution experiments; Sybig Nabcig, a juvenile smog monster, is the protagonist of a story about Dal Tokyo's street culture, e.g., its skaters and radio-controlled robot fights; and we also follow car-hating fiend Dareiter Pictox, who early on in the series records an exploding Mustang for a Ballardian crash-porn moving-picture magazine, into a wild tangle of monsters, mutants, and media. There are many other characters and happenings, but the medium is the message, here: Panter sometimes uses his four panels to tell a serialized, Flash Gordon-type adventure; other times, he spreads a single scene or image or explosion across the entire frame; and other times, it's impossible to tell what's going on! Did Panter invent cyber-punk?
Fun fact: I have written about Dal Tokyo at greater length for The Comics Journal, on the occasion of Fantagraphics' 2012 publication of a Dal Tokyo collection.
***
JOSH GLENN'S *BEST ADVENTURES* LISTS: BEST 250 ADVENTURES OF THE 20TH CENTURY | 100 BEST OUGHTS ADVENTURES | 100 BEST RADIUM AGE (PROTO-)SCI-FI ADVENTURES | 100 BEST TEENS ADVENTURES | 100 BEST TWENTIES ADVENTURES | 100 BEST THIRTIES ADVENTURES | 75 BEST GOLDEN AGE SCI-FI ADVENTURES | 100 BEST FORTIES ADVENTURES | 100 BEST FIFTIES ADVENTURES | 100 BEST SIXTIES ADVENTURES | 75 BEST NEW WAVE SCI FI ADVENTURES | 100 BEST SEVENTIES ADVENTURES | 100 BEST EIGHTIES ADVENTURES | 75 BEST DIAMOND AGE SCI-FI ADVENTURES | 100 BEST NINETIES ADVENTURES (in progress) | 1994 | 1995 | 1996 | 1997 | 1998 | 1999 | 2000 | 2001 | 2002 | 2003 | NOTES ON 21st-CENTURY ADVENTURES.