Best 1963 Adventures (8)
By: Joshua Glenn
September 17, 2018
One in a series of 10 posts identifying Josh Glenn's favorite 1963 adventure novels. Happy 55th anniversary!
*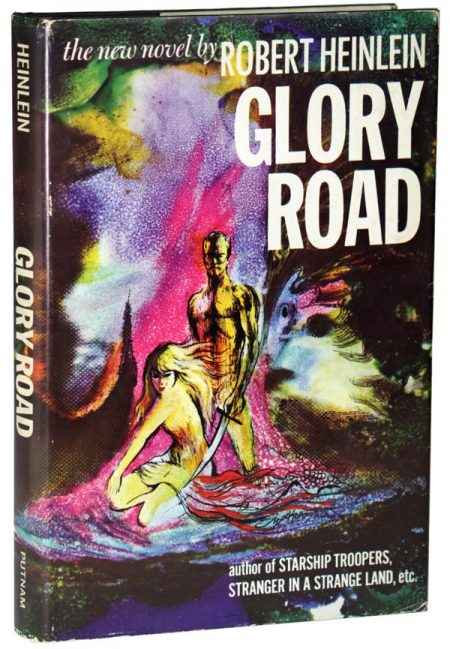 Robert A. Heinlein's science fantasy adventure Glory Road.
This light-hearted fantasy yarn, the author's first, remains — despite its Heinleinian skeeviness and sexism — one of my favorites. When "Easy" Gordon, a scar-faced (early) Vietnam War vet, responds to a classified ad looking for an "indomitably courageous" adventurer seeking "glorious adventure, great danger," he encounters Star, a brave and beautiful sorceress, and her dwarf assistant Rufo. The trio embarks on the "glory road" — via interdimensional travel — the lineaments of which seem drawn from Gordon's own reading of J.R.R. Tolkien, L. Frank Baum, Robert E. Howard, Edgar Rice Burroughs, and H. Rider Haggard. There are fire-breathing dragons, rodents of unusual size, illusions and spells — all of which turn out to have plausible-sounding scientific and mathematical explanations; this story is a missing link between Fletcher Pratt and L. Sprague de Camp's 1940–41 Harold Shea series and The Princess Bride, not to mention Piers Anthony's Xanth series and Robert Lynn Asprin's MythAdventures series. As it transpires, Gordon's glory road adventure isn't what it seems, and in fact it's merely his entrée into a mind-expanding multiverse; this allows Heinlein to trot out his theories about America's screwed up customs (e.g., taxes, marriage, traffic). Even Star's submissive attitude towards Gordon isn't what it seems. An exciting, self-reflexive, silly romp written by an author at the very top of his game.
Fun facts: First serialized in The Magazine of Fantasy & Science Fiction (July – September 1963) and published in hardcover the same year. In his 1979 Afterword, Samuel R. Delany calls Glory Road "endlessly fascinating," and claims that it "maintains a delicacy, a bravura, and a joy."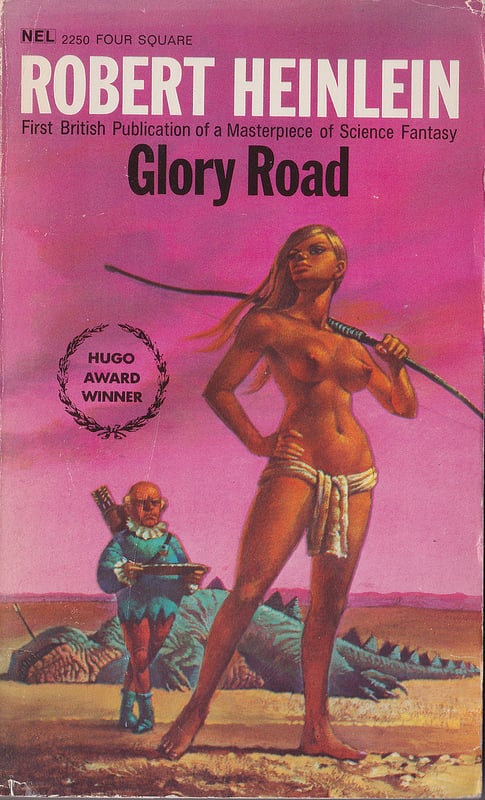 ***
JOSH GLENN'S *BEST ADVENTURES* LISTS: BEST 250 ADVENTURES OF THE 20TH CENTURY | 100 BEST OUGHTS ADVENTURES | 100 BEST RADIUM AGE (PROTO-)SCI-FI ADVENTURES | 100 BEST TEENS ADVENTURES | 100 BEST TWENTIES ADVENTURES | 100 BEST THIRTIES ADVENTURES | 75 BEST GOLDEN AGE SCI-FI ADVENTURES | 100 BEST FORTIES ADVENTURES | 100 BEST FIFTIES ADVENTURES | 100 BEST SIXTIES ADVENTURES | 75 BEST NEW WAVE SCI FI ADVENTURES | 100 BEST SEVENTIES ADVENTURES | 100 BEST EIGHTIES ADVENTURES | 75 BEST DIAMOND AGE SCI-FI ADVENTURES | 100 BEST NINETIES ADVENTURES (in progress) | 1994 | 1995 | 1996 | 1997 | 1998 | 1999 | 2000 | 2001 | 2002 | 2003 | NOTES ON 21st-CENTURY ADVENTURES.