Best 1941 Adventures (8)
By: Joshua Glenn
January 28, 2016
One in a series of 10 posts surfacing Josh Glenn's favorite 1941 adventure novels. Happy 75th anniversary!
*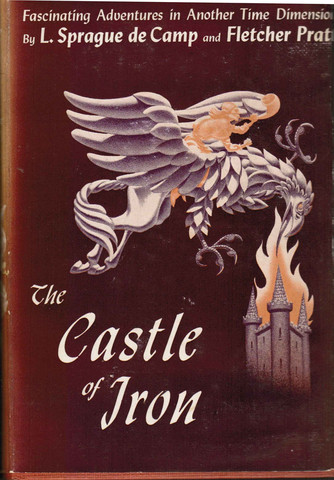 Fletcher Pratt and L. Sprague de Camp's fantasy adventure Castle of Iron (serialized, 1941; in book form, 1950).
The third and final installment in the Harold Shea series, about an intrepid crew of psychonauts who travel to parallel worlds where ancient myths and legends are reality. Here, Shea visits the world of Samuel Taylor Coleridge's 1797/1816 poem fragment "Kubla Khan," then the world of Ludovico Ariosto's 1516/1532 epic poem, the Orlando Furioso. He is accompanied by his colleagues, Walter Bayard and Vaclav Polacek, as well as by — shades of similar figures in Jules Verne's Around the World in Eighty Days or Alfred Jarry's Exploits and Opinions of Dr. Faustroll, Pataphysician — a skeptical police officer. Shea, et al., must negotiate Carolingian politics, restore Shea's wife's sanity, transform Florimel, a human simulacrum made of snow, into a real person, and escape with their lives.
Fun fact: Reissued, with The Roaring Trumpet and The Mathematics of Magic (both 1940), in 1975 as The Compleat Enchanter. Writing for HiLobrow, Tor Aarestad points out that De Camp and Pratt's idea of an underlying logical structure to cultural and linguistic forms sounds like an iteration of Ferdinand de Saussure's semiotics, which De Camp — who dabbled in anthropology and linguistics — might well have encountered.
***
Let me know if I've missed any 1941 adventures that you particularly admire.