Best 1958 Adventures (4)
By: Joshua Glenn
August 23, 2018
One in a series of 10 posts identifying Josh Glenn's favorite 1958 adventure novels. Happy 60th anniversary!
*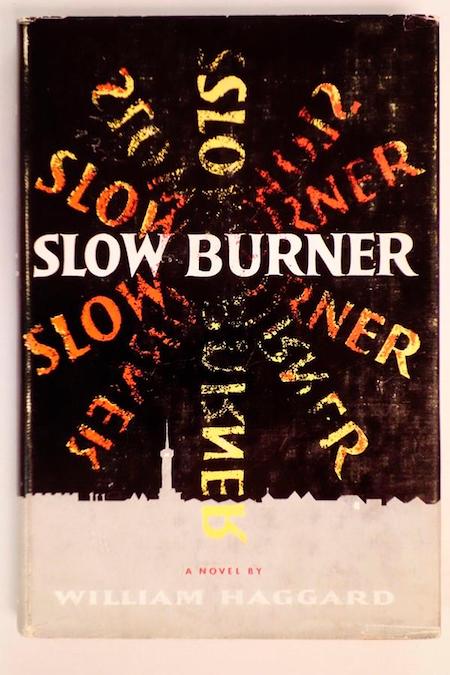 William Haggard's Colonel Charles Russell espionage adventure Slow Burner.
In his debut outing, we meet Colonel Charles Russell — chief of the Special Executive, a (fictional) British counterintelligence service; the man who gives orders to field agents, that is to say; he is not himself an agent. Although there is some bang-bang action, here, Russell is primarily concerned with political maneuvering: Personal antagonisms within Britain's intelligence community eventually lead to murder. At the same time, there's a slow-burning plot-line about a British scientist selling top-secret military tech. Here we meet for the first time not only Russell but his assistant, Major Mortimer; Sir Jeremy Bates, Permanent Secretary at the Ministry; and Russell's friend, the eminent scientist Dr. William Nichol, who directs a project developing a secretive nuclear fission process known as Slow Burner. Why are epsilon rays — the signature emission of the Slow Burner process — emanating from a suburban home outside London? Mrs. Tarbat, who lives in the house in question, has three lovers — is one of them a traitor? Charlie Percival-Smith, a disavowable third party, is brought in to investigate…. And there's a frantic attempt, near the end, to prevent a nuclear accident near Oxford!
Fun facts: Colonel Russell would go on to feature in a further 24 novels. "Haggard lacked [Ian] Fleming's snooty dilettantism," Christopher Fowler has written, "and was better at creating subtle layers of political intrigue."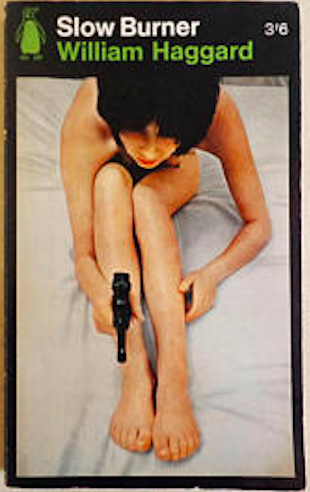 ***
JOSH GLENN'S *BEST ADVENTURES* LISTS: BEST 250 ADVENTURES OF THE 20TH CENTURY | 100 BEST OUGHTS ADVENTURES | 100 BEST RADIUM AGE (PROTO-)SCI-FI ADVENTURES | 100 BEST TEENS ADVENTURES | 100 BEST TWENTIES ADVENTURES | 100 BEST THIRTIES ADVENTURES | 75 BEST GOLDEN AGE SCI-FI ADVENTURES | 100 BEST FORTIES ADVENTURES | 100 BEST FIFTIES ADVENTURES | 100 BEST SIXTIES ADVENTURES | 75 BEST NEW WAVE SCI FI ADVENTURES | 100 BEST SEVENTIES ADVENTURES | 100 BEST EIGHTIES ADVENTURES | 75 BEST DIAMOND AGE SCI-FI ADVENTURES | 100 BEST NINETIES ADVENTURES (in progress) | 1994 | 1995 | 1996 | 1997 | 1998 | 1999 | 2000 | 2001 | 2002 | 2003 | NOTES ON 21st-CENTURY ADVENTURES.