Richard Corben
By: Erik Davis
October 1, 2014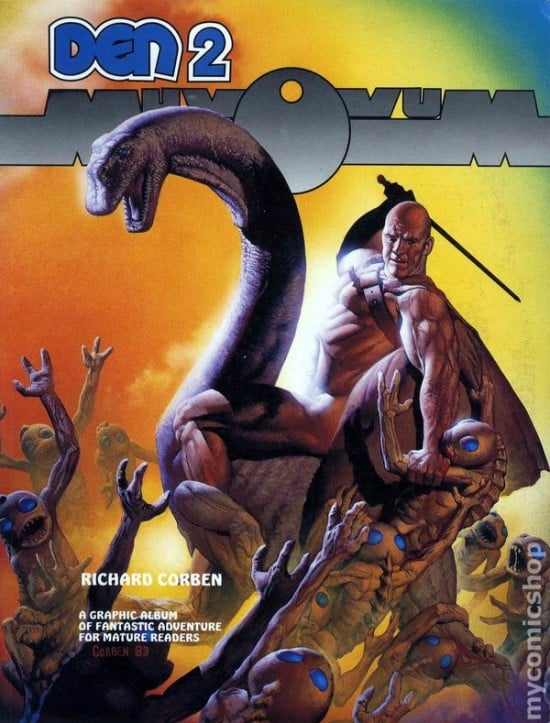 The fantasy and horror comic maestro RICHARD CORBEN (born 1940) drew his tales from the depths of genre, and his best work includes adaptations of Poe, The Arabian Nights, and the Weird Tales crew. But Corben's art, technically inspired and hallucinogenically sensual, is a world until itself. For teenage males scouring popular printed matter for thrills in the late seventies and eighties, nothing matched the pay-dirt of a Corben story in the pages of Heavy Metal. Against skies and wastelands blooming with the artist's oversaturated and uniquely airbrushed colors, Corben regularly unleashed the most notable and controversial element of his art: extraordinarily buxom nude women, rendered in a carnal and uncannily photo-realistic style, and occasionally flashing anatomical details made even more glaring by Corben's prophetic anticipation of the Brazilian wax fad. In his masterful Den series, these überfantasies were matched by an equally nude and well-endowed bald male hero. A shy American nerd (not unlike the real life Corben) transformed into a massive but strangely sensitive otherworldly he-man, Den spends his time wandering around the fantasyscape of Neverwhere, searching for cosmic jewels, falling for warrior women, and acrobatically slaughtering the sorts of eldritch beasties that Corben had long been inking in his classic contributions to the Warren horror mags Creepy and Eerie. Corben started out drawing underground comix, and the awkwardness of Den's flopping dicks and dangling boobs laced a countercultural humor into sword and sorcery, as well as a frank materialism that verged, paradoxically, on innocence. Indeed, Corben's enjoyment of the human body reflected a sunlit classicism more than the pervy macho romance of a Frank Frazetta, and we should not be surprised to discover that Corben, a former farmboy who did not do drugs or wear long hair, admired Norman Rockwell along with Michelangelo and Rodin.
***
On his or her birthday, HiLobrow irregularly pays tribute to one of our high-, low-, no-, or hilobrow heroes. Also born this date: Dizzee Rascal, Walter Matthau, Phyllis Chesler, Larry Poons.
READ MORE about members of the Anti-Anti-Utopian Generation (1934-43).