Regression Toward the Zine (8)
By: Joshua Glenn
August 11, 2013
PREVIOUSLY: Queercore and Riot Grrrl zines from the Joshua Glenn Zine Collection, including: Teenage Gang Debs, Wandromedia, Holy Titclamps.
*
The years 1988 and 1989 were the apex of the Eighties (1984–1993), and also the apex of the Zine Revolution. Here are notes on a few of the excellent zines that were launched in 1988.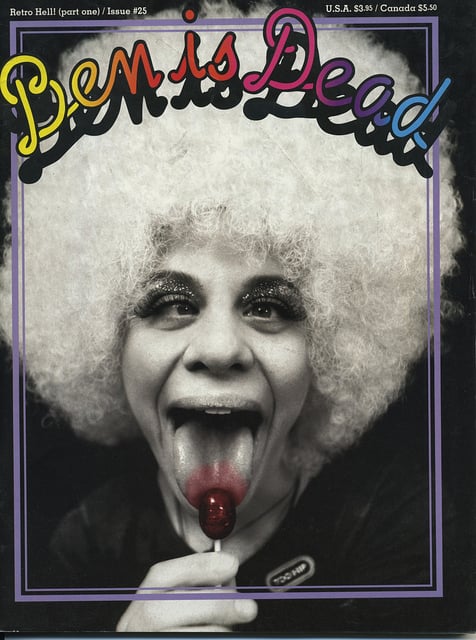 * Ben is Dead, published in Hollywood by Deborah "Darby" Romeo, would become one of the most popular titles from the Zine Revolution. It began in 1988 as a photocopied punk and alternative rock fanzine — publishing interviews with up-and-comers like Nirvana and Hole. Romeo was an amazing writer, and she roped in other outsized talents and personalities. Starting with issue 10 ("Mother"), each issue had an overall theme ("Revenge," "Obsessions and Bad Habits," "Sex," etc.); eventually Ben Is Dead had a circulation in the tens of thousands. Darby helped organize the Kill Zinesters Tour, too, about which more later. Romeo also co-created The I Hate Brenda Newsletter, a one-shot publication which was widely covered by the mainstream press. PS: Darby's zine collection is at the UCLA Library.
* Donna Kossy's Kooks Magazine — a spinoff of the "Kooks Page" in her earlier zine, False Positive, was launched in 1988. Factsheet Five described Kooks like so: "A collection of bizarre literature and semi-scholarly research on kooks: those folks who have all the answers that science and the authorities have been trying to suppress. This issue features […] progress towards a theory of kookdom."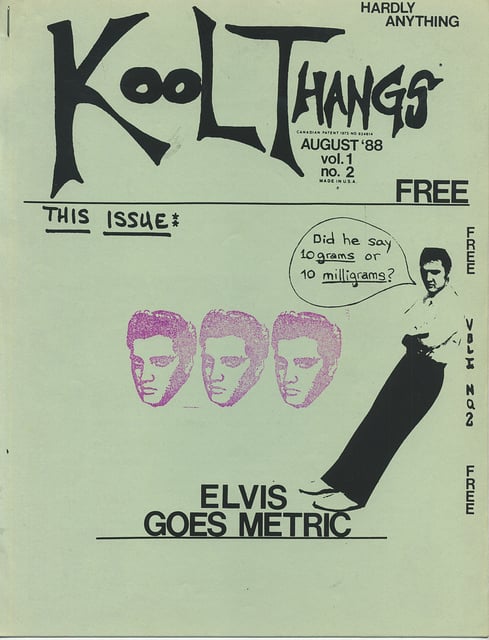 * My college friend Sherman Wilmott, who started publishing Kool Thangs in 1988, was the guy who told me that these things had a name: "zine." In addition to starting a record store and producing great rock albums and making documentaries, not to mention publising the zine/city guide Kreature Comforts, Sherman would go on to spend the next quarter-century obsessively documenting the "low-life" musical history of Memphis, Tennessee; Kool Thangs was the beginning of that brilliant career.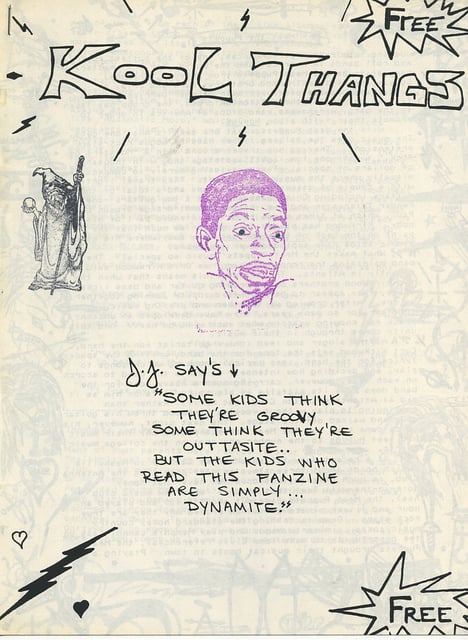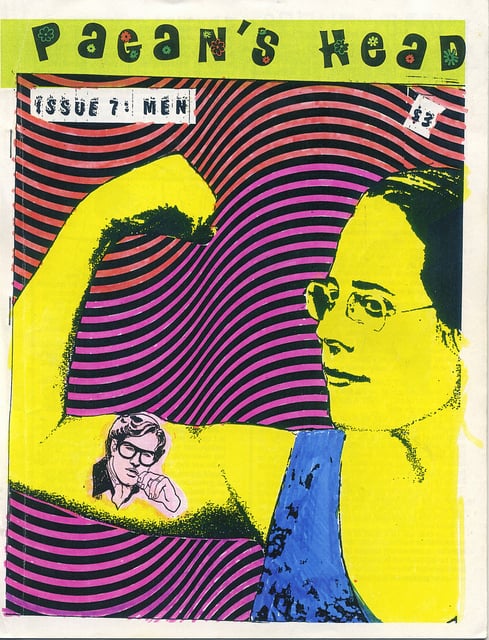 * Pagan's Head — originally known as Back to Pagan, and later Back to Pagan's Head — first appeared in 1988. Allston, Mass.-based writer Pamela "Pagan" Kennedy published it until 1993. Demonstrating an innate genius for tracking cultural trends — something she did as a freelance writer for the Village Voice Literary Supplement in those days — Pagan launched her zine at the very apex of the Zine Revolution and quit just as the Revolution ended. PS: At one point, Donna Kossy and Pagan were housemates.
NEXT: 1989 zines from the Joshua Glenn Zine Collection, including: Baby Split Bowling News, King-Cat Comics & Stories, Dishwasher.
This is a 25-part series in which HiLobrow editor Joshua Glenn, who from 1990–93 published the zine Luvboat Earth and from 1992–2001 published the zine/journal Hermenaut, bids a fond farewell to his noteworthy collection of zines, which he recently donated to the University of Iowa Library's zine and amateur press collection. CLICK HERE to view the online finding aid for this collection.