Regression Toward the Zine (7)
By: Joshua Glenn
August 4, 2013
PREVIOUSLY: Early 1980s zines from the Joshua Glenn Zine Collection, including: Cometbus, 2600: The Hacker Quarterly, CONTORT, The Mark of Cain, Why Do Men Kill Elephants?, Murder Can Be Fun
*
Many accounts of the zine scene of the Seventies (1974–1983) focus entirely on punk zines; a similar phenomenon is at work in many accounts of the zine scene of the Eighties (1984–1993). One might easily be led to believe that there were no zines published during that era other than Queercore and Riot Grrrl zines. That's not the case. Still, Queercore and Riot Grrrl zines were a big deal at the time, and a few examples ended up in my collection.
Here are some sketchy notes.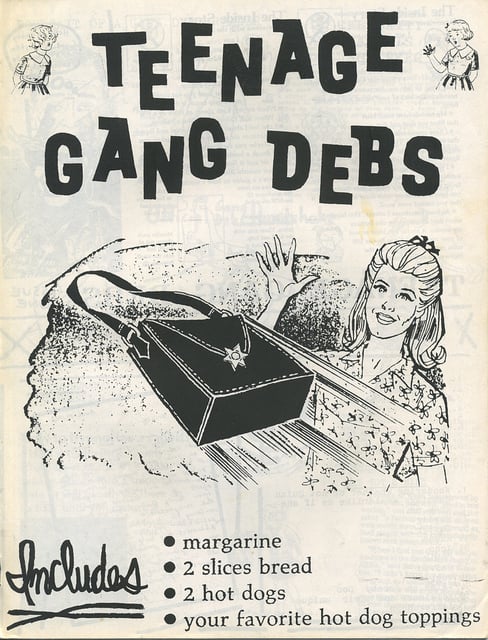 * Teenage Gang Debs is not a riot grrrl zine — but it was co-published by Erin Smith, who in 1991 joined the first-generation riot grrrl band Bratmobile. The issue shown here, published in Bethesda, is from 1989. TGD was a brilliant zine about pop culture nostalgia and deconstruction — the Brady Bunch was a particular obsession of Erin's. PS: Bratmobile formed when University of Oregon students Allison Wolfe and Molly Neuman collaborated on the feminist fanzine Girl Germs. The thing about DIY culture that I dig is how the line between zine-publishing fan and fully participating creative is such a permeable one.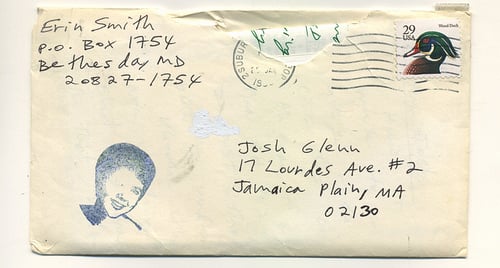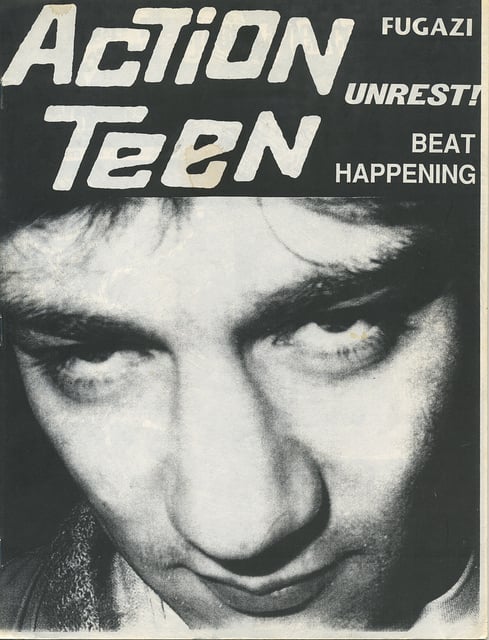 * Erin and her brother Don Smith also published a zine in 1991 called Action Teen that was pretty excellent.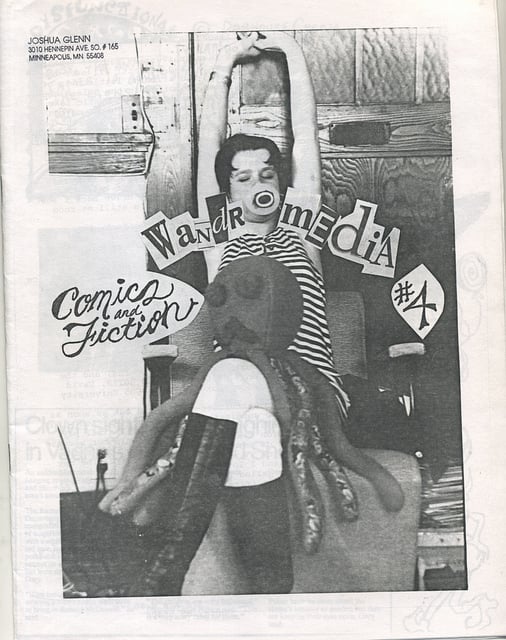 * Before Jessica Hopper of the Minneapolis band Andromeda Strain became the poster girl for Riot Grrrl, Andromeda Strain was Wendy Darst's band. When I moved to Minneapolis in the mid-'90s I became friends with Wendy via the local zine scene. Her zine Wandromedia was well-written, funny, smart; and into each issue Wendy bound a small comic book she'd also written and drawn. I thought that was a brilliant touch.
* The queerzine Holy Titclamps was first published in Minneapolis in 1989, by "Larry-bob." In DIY: The Rise Of Lo-Fi Culture, Larry-bob recounts, "I was living in Minneapolis and in 1988 I found out about zines like Homocore and J.D.s. I'd been into punk rock, and I was out as gay, but didn't know many other people who shared both those interests. Those zines showed it could be done, but nobody else in my town was doing it."
NEXT: 1988 zines from the Joshua Glenn Zine Collection, including: Ben is Dead, Kooks Magazine, Kool Thangs, Pagan's Head.
This is a 25-part series in which HiLobrow editor Joshua Glenn, who from 1990–93 published the zine Luvboat Earth and from 1992–2001 published the zine/journal Hermenaut, bids a fond farewell to his noteworthy collection of zines, which he recently donated to the University of Iowa Library's zine and amateur press collection. CLICK HERE to view the online finding aid for this collection.