BRAINIAC Q&A (22)
By: Joshua Glenn
January 6, 2013
From late September 2002 through early 2006, HILOBROW's Joshua Glenn wrote THE EXAMINED LIFE, a weekly three-item column for the Boston Globe's Ideas section; and from late 2006 though mid-2008, he wrote BRAINIAC, an Ideas section blog that was repurposed as a three-item weekly column in the paper. This series reprints a few Q&As from Glenn's two Ideas columns. [Brainiac image via 4CP]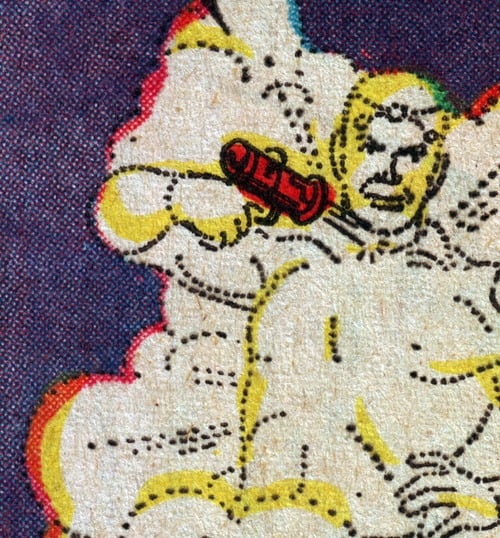 ***
September 26, 2004
PATRIOTIC LORE
By Joshua Glenn
"Our best-loved tales of America's birth — Paul Revere's ride, the rabble-rousing of Sam Adams — sell America short," says Ray Raphael, a northern California-based historian whose new book, Founding Myths: Stories That Hide Our Patriotic Past (New Press), points out simplifications and exaggerations in yarns of the American Revolution, from the shot heard 'round the world to the winter at Valley Forge. "Not only are many of these stories untrue," he adds, "but they miss the true spirit of the Revolution." Raphael (the brother of Boston arts popularizer Sidewalk Sam) spoke to Ideas via telephone last week while in town doing research along the Freedom Trail for his next book.
IDEAS: Why do the "founding myths" persist in bestselling history books and school texts?
RAPHAEL: For one thing, they make good narratives — they feature heroes and heroines, clear plot lines in which good does battle against evil and wise men prevail over fools, and happy endings. A prime example of the latter is the surrender of Lord Cornwallis's army in October of 1781 at Yorktown, which is invariably described as the decisive final battle of the Revolution. But in the year after Yorktown more Americans were killed in combat than in the first year of the Revolution…. When Britain finally called it quits, it was for internal political reasons, not because 7,000 soldiers surrendered at Yorktown. Fortunately, General Washington didn't rush to declare "Mission Accomplished."
IDEAS: You suggest that our popular Revolutionary stories aren't truly patriotic. Why?
RAPHAEL: In the 19th century, it was decided that by studying role models from the Revolution, schoolchildren could learn what it means to be patriotic. So historians created a tiny pantheon of mythic figures like Sam Adams [who] is credited today with working complacent Bostonians into a frenzy to achieve his own goal of national independence…. But although the Old South Meeting House may perpetuate the myth that Adams gave the signal to start the Tea Party [on Dec. 16, 1773], in fact he tried to stop it! He didn't advocate independence until after large numbers of ordinary folks did. So focusing on one particular individual's actions isn't patriotic.
IDEAS: How did Paul Revere's all-but-forgotten midnight ride end up becoming a popular story?
RAPHAEL: In April 1860, as the Civil War approached, Henry Wadsworth Longfellow heard a folkloric rendition of Paul Revere's ride from a fellow Bostonian. Inspired by the idea that a single patriot issuing a wake-up call could unite the nation, he wrote "Paul Revere's Ride," which is riddled with distortions…. Most importantly, it wasn't a lone individual from Boston who "kindled the land into flame" but an intricate web of rural patriotic activists who had been communicating with each other for years. Thanks to popular tales like this one, our collective identity is now a passive one — we've been taught to rally behind our leaders, not to participate actively in self-governance.
***
READ MORE essays by Joshua Glenn, originally published in: THE BAFFLER | BOSTON GLOBE IDEAS | BRAINIAC | CABINET | FEED | HERMENAUT | HILOBROW | HILOBROW: GENERATIONS | HILOBROW: RADIUM AGE SCIENCE FICTION | HILOBROW: SHOCKING BLOCKING | THE IDLER | IO9 | N+1 | NEW YORK TIMES BOOK REVIEW | SEMIONAUT | SLATE