BRAINIAC Q&A (21)
By: Joshua Glenn
December 29, 2012
From late September 2002 through early 2006, HILOBROW's Joshua Glenn wrote THE EXAMINED LIFE, a weekly three-item column for the Boston Globe's Ideas section; and from late 2006 though mid-2008, he wrote BRAINIAC, an Ideas section blog that was repurposed as a three-item weekly column in the paper. This series reprints a few Q&As from Glenn's two Ideas columns. [Brainiac image via 4CP]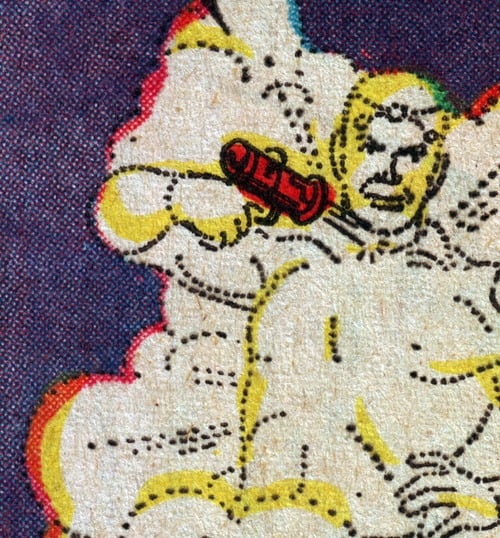 ***
November 7, 2004
THE MARKET'S WILL BE DONE
Since the 1970s, as social critic Thomas Frank pointed out in One Market Under God (2000), post-Keynesian financial gurus have worked to convince us that the market is as all-knowing as God Himself. According to Mark C. Taylor, a distinguished professor of humanities at Williams College and Columbia University, the conflation of religion and economics isn't entirely rhetorical. In his new book Confidence Games: Money and Markets in a World Without Redemption (Chicago), he draws on complexity theory, philosophy, and the vertiginous speculations of Wall Street to argue that, ever since money has become virtual and markets more complex, economics has been a matter of faith. Taylor spoke with me via telephone from his home in Williamstown.
IDEAS: You attach great significance to Nixon's suspension of the gold standard…
TAYLOR: It was the economic equivalent of the death of God. Formerly, the value of a currency was a function of its relation to gold, but after the suspension of the Bretton Woods agreement in 1971, there was no longer any firm foundation for value. Currencies began to "float" — the value of a currency became merely a function of its relation to other currencies… Today, markets have lost contact with anything resembling the real economy. There's nothing more postmodern than the endless circulation of derivatives, virtual currencies, swaps, options, and options and options. Talk about the play of signs!
IDEAS: The rise of global capitalism has coincided with a worldwide rise of religious fundamentalism. Is there a connection?
TAYLOR: The spread of global capitalism creates the political and cultural volatility that calls forth neo-fundamentalism. I say "neo-" because this fundamentalism is symptomatic of the disappearance of the very certainties it asserts. Outside this country, neo-fundamentalists often resist globalization, which is partly why the World Trade Center was targeted. But in America, for some odd reason, evangelical Christians from Reagan to George W. Bush have also been market fundamentalists who've argued that globalization will make the world less volatile. … According to market fundamentalist dogma, investors are rational and markets operate efficiently in a world where every risk can be hedged. This is a religious vision — but a misguided one.
IDEAS: Your book proposes that life, like the stock market, is nothing but a "confidence game." What do you mean by that, exactly?

TAYLOR: Any large-scale solutions to the world's current crises will have to involve recognizing that the simplistic ideologies and instruments we've invented to minimize political, cultural, and economic volatility always end up increasing it. Placing our confidence in the idealized visions of neoconservatives and Wall Street formulas like the "efficient markets hypothesis" has led us to the brink of disaster. … Neither the market nor life itself are what economists call "equilibrium systems," where the laws of probability apply. Instead they're what complexity theorists call "complex adaptive systems," in which unpredictable but not completely incomprehensible changes occur all the time. Life in all its complexity remains a confidence game — both a gamble and a leap of faith — and we should relish it.
***
READ MORE essays by Joshua Glenn, originally published in: THE BAFFLER | BOSTON GLOBE IDEAS | BRAINIAC | CABINET | FEED | HERMENAUT | HILOBROW | HILOBROW: GENERATIONS | HILOBROW: RADIUM AGE SCIENCE FICTION | HILOBROW: SHOCKING BLOCKING | THE IDLER | IO9 | N+1 | NEW YORK TIMES BOOK REVIEW | SEMIONAUT | SLATE