BRAINIAC Q&A (16)
By: Joshua Glenn
November 19, 2012
From late September 2002 through early 2006, HILOBROW's Joshua Glenn wrote THE EXAMINED LIFE, a weekly three-item column for the Boston Globe's Ideas section; and from late 2006 though mid-2008, he wrote BRAINIAC, an Ideas section blog that was repurposed as a three-item weekly column in the paper. This series reprints a few Q&As from Glenn's two Ideas columns. [Brainiac image via 4CP]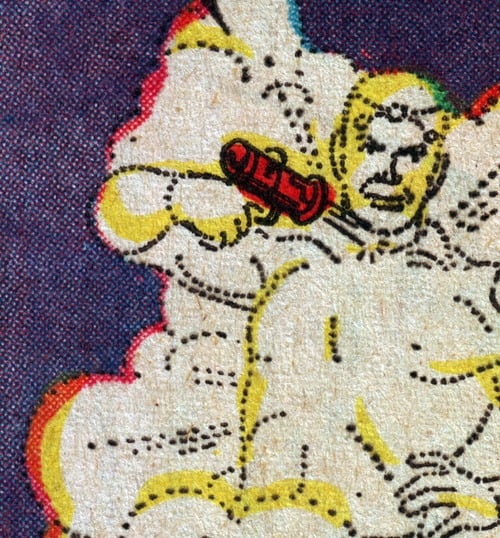 ***
February 20, 2005
THE PROFESSOR OF B.S.
Last month at her confirmation hearing, Secretary of State Condoleezza Rice was berated by Senator Barbara Boxer for having helped sell the war in Iraq to Americans as though "rolling out a new product, like a can opener" and allowing her loyalty to the administration to "overwhelm [her] respect for the truth." Rice hotly denied these charges — but of what, exactly, was she being accused? Lying? Or advancing an agenda without concern for the truth?
According to the influential moral philosopher Harry G. Frankfurt, lying may be less tolerated in America, but the latter action is a more insidious threat to civilization itself. Frankfurt — whose 1986 essay on balderdash, claptrap, and buncombe has just been published by Princeton University Press under the title On B.S. (as Globe rules require that I render it) spoke with me via telephone from his home in Princeton, N.J.
IDEAS: What, exactly, is the difference between lying and B.S.-ing?
FRANKFURT: Liars deliberately make false claims about what is true, or about what they believe is true — and in so doing acknowledge that there is a difference between truth and falsehood, and that truth matters. The liar is inescapably concerned with truth-values. But the distinctive character of the B.S.-er is that he isn't particularly interested in the difference between true and false. He'll say whatever it takes to get away with whatever he's trying to get away with. So whether in a bull session or on national television, what the B.S. artist says isn't necessarily false, but it is always phony.
IDEAS: You claim that one of the most salient features of our culture is that there is so much B.S. in it, particularly in advertising and politics. Why is the prevalent lack of concern with truth values such a threat?
FRANKFURT: It seems to me, though I can't prove it, that B.S. is on the rise. This is no doubt a function in part of the enormous increase in communication — the production of statements and assertions — now required of public figures. There's also an increasing commitment to a populist conception of public life, the idea that it is the responsibility of a citizen in a democracy to have opinions about everything — which means those in power are ever more concerned with manipulating public opinion. Like advertisers, politicians would rather sell us a bill of goods than lie. But to be unconcerned with how the things about which one speaks truly are undermines the basis for social relations, for science, for civilization in general.
IDEAS: In comparing Condoleezza Rice's statements about the necessity of military action in Iraq to an advertiser's techniques, do you think Senator Boxer was accusing Rice of being a liar, or a B.S. artist?
FRANKFURT: Boxer might have meant that Rice had allowed herself to tell lies, or she might have meant that Rice no longer really cares what is true and what is false. Of course, she might have meant both. I suppose that Rice has from time to time engaged in both lying and B.S. But that's characteristic of public officials — Republicans and Democrats alike.
***
READ MORE essays by Joshua Glenn, originally published in: THE BAFFLER | BOSTON GLOBE IDEAS | BRAINIAC | CABINET | FEED | HERMENAUT | HILOBROW | HILOBROW: GENERATIONS | HILOBROW: RADIUM AGE SCIENCE FICTION | HILOBROW: SHOCKING BLOCKING | THE IDLER | IO9 | N+1 | NEW YORK TIMES BOOK REVIEW | SEMIONAUT | SLATE