BRAINIAC Q&A (12)
By: Joshua Glenn
October 25, 2012
From late September 2002 through early 2006, HILOBROW's Joshua Glenn wrote THE EXAMINED LIFE, a weekly three-item column for the Boston Globe's Ideas section; and from late 2006 though mid-2008, he wrote BRAINIAC, an Ideas section blog that was repurposed as a three-item weekly column in the paper. This series reprints a few Q&As from Glenn's two Ideas columns. [Brainiac image via 4CP]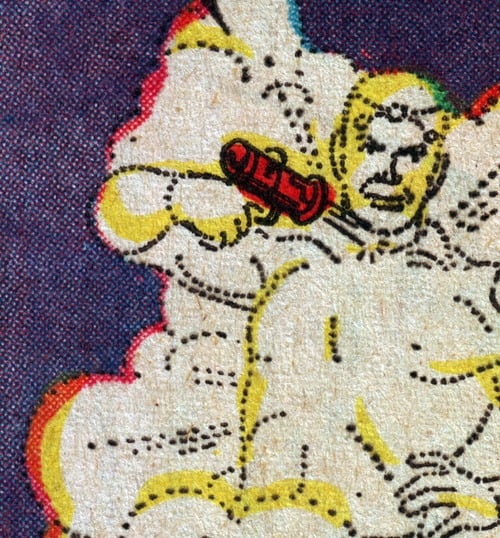 ***
May 15, 2005
THE LAST UTOPIAN
Since the publication of his 1987 best-seller The Last Intellectuals, which lamented the replacement of free-range thinkers penning lively essays in the vernacular by academic leftists churning out jargon-clotted prose, UCLA historian Russell Jacoby has been dismissed in some quarters as a curmudgeon lacking a positive agenda for social change. His most recent book, The End of Utopia (1999), which criticized liberals for abandoning the visionary ideals that inspired social movements, didn't help dispel this impression. This month, however, when Jacoby's Picture Imperfect: Utopian Thought for an Anti-Utopian Age (Columbia), hits bookstores, the method behind his melancholia will be revealed at last. Jacoby spoke with me via telephone from his home in Venice, Calif., last week.
BRAINIAC: These days utopian thought is associated with the murderous regimes of the 20th century. Do utopians deserve this bad reputation?
JACOBY: Thanks to the persuasive arguments of Cold War liberal thinkers like Isaiah Berlin, Karl Popper, and Hannah Arendt, the idea that utopianism leads to violence has become the conventional wisdom. And to the extent that there was a utopian aspect to Stalinism via Marxist theory, there's some truth there. But the major blights of the 20th and 21st centuries are racism, nationalism, and sectarianism. Historically, from Greek and Roman ideas of a "golden age" to Thomas More's Utopia to L. Frank Baum's Land of Oz, the motifs of utopian thought included community, leisure, solidarity, equality, pleasure — I fail to see a utopian element to Nazism or Pol Pot or the killers in Rwanda.
IDEAS: Did the collapse of the Soviet Union in 1989 contribute to the demise of utopian thinking?
JACOBY: The lesson drawn by many after 1989 was that utopianism itself, not just certain communist states, had failed. But remember, those regimes had leftist critics, on the inside, right from the beginning. Without the buoyant idealism of utopian thought what we're left with is intellectual resignation. Today our boldest dreams of the future — universal health care, free higher education — could be realized by a comprehensive welfare state. The human project is to push forward, it seems to me, and if we're only concerned with better garbage pickup and oiling the hinges then we're giving up something crucial.
IDEAS: In your book you're critical of the tradition of "blueprint utopianism," in which the future is drawn in exact detail.
JACOBY: If there is an exhausted utopian tradition, then it's "blueprint" utopianism, which runs from Thomas More to Edward Bellamy [whose 1888 novel Looking Backward depicted a futuristic Boston]. The idea of planning freedom in detail — down to what time people will get up in the morning — is an oxymoron at best. Instead, I'm attracted to what I call iconoclastic utopianism, a subterranean tradition whose leading figures, [mostly 20th-century Jewish thinkers like] Ernst Bloch, Martin Buber, Gustav Landauer, T.W. Adorno, Max Horkheimer, tapped ideas traditionally associated with utopia — harmony, leisure, peace — but in discussing a future superior society they obeyed, or so it appears, the Biblical commandment against depicting God. What we learn from these utopians is that a reluctance to depict utopia does not diminish but exalts it. You can listen for utopia, approach it through hints and parables but to give its precise measurements would be a betrayal.
***
READ MORE essays by Joshua Glenn, originally published in: THE BAFFLER | BOSTON GLOBE IDEAS | BRAINIAC | CABINET | FEED | HERMENAUT | HILOBROW | HILOBROW: GENERATIONS | HILOBROW: RADIUM AGE SCIENCE FICTION | HILOBROW: SHOCKING BLOCKING | THE IDLER | IO9 | N+1 | NEW YORK TIMES BOOK REVIEW | SEMIONAUT | SLATE