BRAINIAC Q&A (10)
By: Joshua Glenn
October 13, 2012
From late September 2002 through early 2006, HILOBROW's Joshua Glenn wrote THE EXAMINED LIFE, a weekly three-item column for the Boston Globe's Ideas section; and from late 2006 though mid-2008, he wrote BRAINIAC, an Ideas section blog that was repurposed as a three-item weekly column in the paper. This series reprints a few Q&As from Glenn's two Ideas columns. [Brainiac image via 4CP]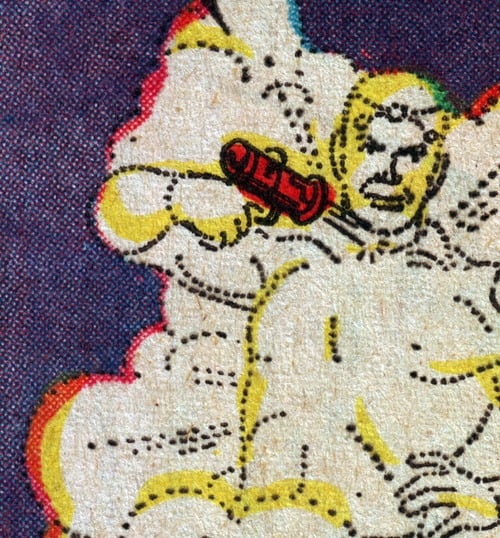 ***
June 5, 2005
SINS OF SODOM?
"Can we find our way back to a culture that supports our families, instead of attacking them? I say, 'Yes we can,'" Sam Brownback, Republican senator from Kansas, declared last year in a stump speech, making reference to his sponsorship of a proposed federal amendment banning same-sex marriage. David G. Myers, professor of psychology at Hope College, a Christian liberal arts college in Holland, Mich., and Letha Dawson Scanzoni, a Christian author and scholar based in Norfolk, Va., also think we can — but that's where they part ways with coreligionists like Brownback. Interviewed by phone and e-mail last week, Myers and Scanzoni spoke about their new book, What God Has Joined Together? A Christian Case for Gay Marriage (HarperSanFrancisco), which was front-page news across Michigan last month, even before it was published.
IDEAS: Conservative Christian activists argue that same-sex marriage is a threat to marriage "as it's been known for millennia," as Focus on the Family founder James Dobson has put it. Are they wrong?
MYERS: Marriage has undergone many changes, from Old Testament times when King David had multiple wives and concubines to today's monogamy, from arranged marriages to romance-based marriages, and from banning to accepting interracial marriages. But I agree that marriage today is in trouble. Our book argues that the world would be a happier and healthier place if love, sex, and marriage routinely went together. Extending that argument to include 100 percent of people is by comparison a modest reform.
IDEAS: Doesn't the Bible describe homosexuality as an abomination?
MYERS: The concept of homosexuality, as a naturally disposed orientation, isn't mentioned in the Bible. Nor does Scripture say anything about committed same-sex relationships.
IDEAS: But isn't the destruction of Sodom in Genesis 19, after the men of Sodom demand that Lot hand over his male visitors so that they might "know" them, often cited as God's judgment upon homosexuality?
SCANZONI: God's judgment was upon the lack of hospitality and attempted sexual humiliation of the visitors through gang rape. The judgment was not about the love of two homosexual persons for each other. Ezekiel 16 says, "Sodom's sins were pride, laziness, and gluttony, while the poor and needy suffered outside her door."
IDEAS: What about the passages in Leviticus, Deuteronomy, and First and Second Kings that condemn sodomites or Paul's epistles condemning those men he describes as "abusers of themselves with mankind"?
SCANZONI: Jewish and Christian scholars agree that the word sodomite doesn't appear in the original language. A Hebrew word for leaders in idolatrous rituals was mistranslated as sodomite in some older English Bible versions. The passages from the epistles refer to exploitative male prostitution practices in St. Paul's time. They don't apply to same-sex marriage any more than admonitions against heterosexual prostitution apply to heterosexual marriage.
IDEAS: Why should Christians endorse extending marriage rights to gays and lesbians?
MYERS: First, because most Christians are eager to see families strengthened and marriage supported. Second, because we're followers of Jesus, who said a great deal about loving our neighbor, avoiding judgmentalism, and supporting those who are hurting and regarded as outcasts. We view the Bible as Good News, not Bad News, for gays as well as straight people.
IDEAS: You've come under fire from conservative Christians already.
MYERS: It's been a big news story here in Michigan — I live in one of the most Republican counties in the United States. But once the book is in stores, I think people will see that we're trying to bridge the divide.
***
READ MORE essays by Joshua Glenn, originally published in: THE BAFFLER | BOSTON GLOBE IDEAS | BRAINIAC | CABINET | FEED | HERMENAUT | HILOBROW | HILOBROW: GENERATIONS | HILOBROW: RADIUM AGE SCIENCE FICTION | HILOBROW: SHOCKING BLOCKING | THE IDLER | IO9 | N+1 | NEW YORK TIMES BOOK REVIEW | SEMIONAUT | SLATE