BRAINIAC Q&A (8)
By: Joshua Glenn
October 9, 2012
From late September 2002 through early 2006, HILOBROW's Joshua Glenn wrote THE EXAMINED LIFE, a weekly three-item column for the Boston Globe's Ideas section; and from late 2006 though mid-2008, he wrote BRAINIAC, an Ideas section blog that was repurposed as a three-item weekly column in the paper. This series reprints a few Q&As from Glenn's two Ideas columns. [Brainiac image via 4CP]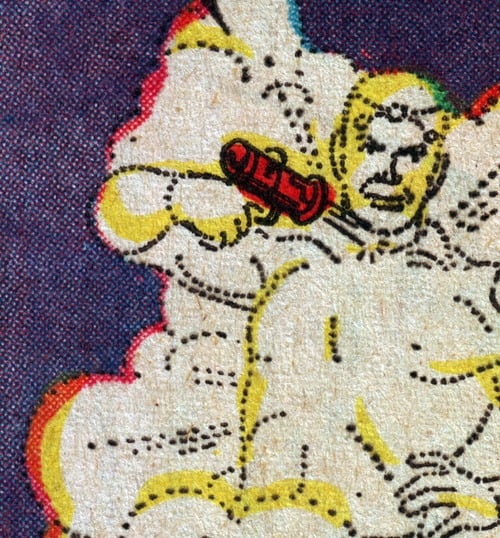 ***
July 3, 2005
POLARIZATION
A recent "Frontline" documentary on civilian contractors working for the United States in Iraq focused on the 20,000 private security forces there, almost to the exclusion of 100,000 or so spud-peelers, latrine-diggers, and bottle-washers who are currently toiling away. So what's it like to indirectly serve your country by working a lousy job in, er, a hostile environment? Mostly absurd, claims Nicholas Johnson, author of Big Dead Place (Feral House), a bleakly funny new exposé of daily life at the United States Antarctic Program's McMurdo and South Pole stations, where he spent five summers and two winters between 1998 and 2004 working mostly for Raytheon as a busboy, garbage man, heavy-equipment operator, and data-entry clerk. Johnson, currently living in Vancouver, answered my questions about earning a paycheck "on the ice" via e-mail.
IDEAS: What was McMurdo — where there's a summer population of 1,200 — actually like?
JOHNSON: I imagined that I would be either living in an igloo or a tent and having to kill seals for dinner, or living in some sort of high-tech environment from 2001: A Space Odyssey. I wanted to see if I was tough enough for it. It never occurred to me that there might be cubicles, quality assurance representatives, and pizza day there. Somewhere along the line I had picked up the idea that, when it came down to survival on a frontier all the workaday politics, calculated rhetoric, and absurd bureaucracy of daily life would magically disappear. But it doesn't.
IDEAS: One of your chapters is called "Frozen Realm of Mystery."
JOHNSON: "Frozen realm of mystery" sums up my preconceived notion of Antarctica. But a job is still a job — for example, I learned that when buzzwords like "Security Concerns" or "Inappropriate Behavior" start flying around, your employer is often up to something that won't be in your interest, otherwise they'd tell you straight. And management is as screwy in Antarctica as anywhere. Last year at the South Pole, temperature had been around minus-80 degrees Fahrenheit for weeks when the safety coordinator held a mandatory briefing on the perils of heatstroke!
IDEAS: Most Antarctica books don't talk about sex at the South Pole. Why is that?
JOHNSON: I'm sure it's primarily because for so long Antarctic stations were populated solely by men, so whatever sex was going on, if any, was certainly not recorded. But even reading relatively modern accounts, you would think everyone's libido had just evaporated upon crossing 60 degrees south. This is by no means the case. The opposite is true, in fact. A friend of mine even had sex with his girlfriend in the Chapel of the Snows. They took a picture of it that they said I could publish, but later he lost it. A real shame for Antarctic history.
IDEAS: Did you see the recent report that Antarctica is getting heavier at a rate of 45 billion tons a year, as global warming evaporates ice everywhere else and then rains the moisture down over the South Pole?
JOHNSON: The reports sound ominous, but I really have no more insight into Antarctica and global warming than you do. When you're working your butt off at an Antarctic station, such ecological dramas are good for about 20 minutes of lunchtime discussion a week, tops.
***
READ MORE essays by Joshua Glenn, originally published in: THE BAFFLER | BOSTON GLOBE IDEAS | BRAINIAC | CABINET | FEED | HERMENAUT | HILOBROW | HILOBROW: GENERATIONS | HILOBROW: RADIUM AGE SCIENCE FICTION | HILOBROW: SHOCKING BLOCKING | THE IDLER | IO9 | N+1 | NEW YORK TIMES BOOK REVIEW | SEMIONAUT | SLATE