BRAINIAC Q&A (7)
By: Joshua Glenn
October 8, 2012
From late September 2002 through early 2006, HILOBROW's Joshua Glenn wrote THE EXAMINED LIFE, a weekly three-item column for the Boston Globe's Ideas section; and from late 2006 though mid-2008, he wrote BRAINIAC, an Ideas section blog that was repurposed as a three-item weekly column in the paper. This series reprints a few Q&As from Glenn's two Ideas columns. [Brainiac image via 4CP]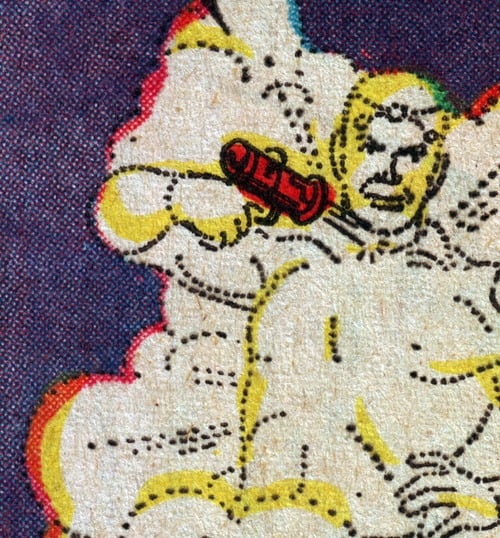 ***
July 24, 2005
REALTOR NATION
Today's low interest rates and hot real estate market have more people than ever scrambling to own a piece of the American Dream. But according to Jeffrey M. Hornstein, a Philadelphia-based union organizer and independent historian, home ownership wasn't always the ultimate symbol of being middle-class. In his new book, A Nation of Realtors: A Cultural History of the Twentieth-Century American Middle Class (Duke), Hornstein explores the leading role that brokers played in selling us on the larger vision behind the single-family home on the quarter-acre lot in a low-density suburban development. I reached Hornstein via telephone at his office in Philadelphia.
IDEAS: You got interested in housing and identity while a junior at MIT, in 1987, through an internship with the Boston Coalition for the Homeless.
HORNSTEIN: It occurred to me then, as I observed how homelessness was framed in the news, that the homeless aren't considered truly American. These people don't belong, we're given to understand, because — unlike most Americans, who, no matter what we do for a living, believe that we're middle-class, which has come to be synonymous with "current or future homeowner" — they neither own nor are saving up for a home. But before the early 20th century, being middle-class meant being an educated and credentialed member of a closed profession, like a lawyer or doctor. And the American Dream, before the early 20th century, had less to do with owner-occupied homes than with political freedom.
IDEAS: What was the role of real estate brokers in this shift?
HORNSTEIN: At the end of World War I, although proponents of so-called modern housing called for high-density, publicly funded land development, realtors — along with mortgage bankers and others — wanted Americans to buy homes. The National Real Estate Board's government-backed "Own Your Own Home" campaign used wartime propaganda techniques to hammer away at the message that only the owner-occupied, single-family home is a true home. In the early '20s, the realtors found a great ally in a young secretary of commerce, Herbert Hoover, who supported the launch of the Better Homes in America movement. The single-family home later became the centerpiece of New Deal housing policy, and by mid-century the suburban homeowner had become the true American.
IDEAS: As recently as 1910, real estate salesmen and developers were seen as disreputable "curbstone brokers" and "land sharks." What does their professionalization tell us about the American middle class?
HORNSTEIN: In 1908, prominent American real estate brokers formed what is now the National Association of Realtors — the term "realtor" was coined to designate a broker who is a member. They started requiring aspiring realtors to get some training and demonstrate expertise. In doing so they helped redefine professionalism, which had previously been a difficult-to-achieve marker of middle-class status. Today just about anybody — travel agents like my mom, secretaries, even journalists — can own a mortgaged home and call themselves a professional, which largely explains why we all think of ourselves as middle-class. Its imprecision is precisely what gives the concept "middle class" its power.
***
READ MORE essays by Joshua Glenn, originally published in: THE BAFFLER | BOSTON GLOBE IDEAS | BRAINIAC | CABINET | FEED | HERMENAUT | HILOBROW | HILOBROW: GENERATIONS | HILOBROW: RADIUM AGE SCIENCE FICTION | HILOBROW: SHOCKING BLOCKING | THE IDLER | IO9 | N+1 | NEW YORK TIMES BOOK REVIEW | SEMIONAUT | SLATE