BRAINIAC Q&A (4)
By: Joshua Glenn
October 4, 2012
From late September 2002 through early 2006, HILOBROW's Joshua Glenn wrote THE EXAMINED LIFE, a weekly three-item column for the Boston Globe's Ideas section; and from late 2006 though mid-2008, he wrote BRAINIAC, an Ideas section blog that was repurposed as a three-item weekly column in the paper. This series reprints a few Q&As from Glenn's two Ideas columns. [Brainiac image via 4CP]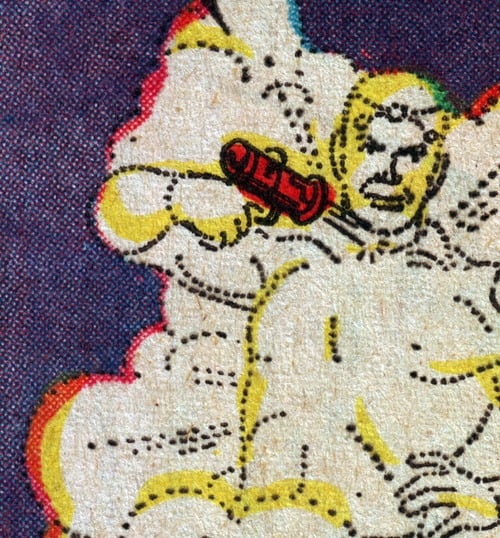 ***
October 9, 2005
BOSTON PUBLIC
William J. Mitchell, a professor of architecture and media arts at MIT, writes a monthly column for the journal of the Royal Institute of British Architects. He sometimes files from far-off locales: Melbourne, Vicenza (Italy), Zurich, New York. But a glance at Placing Words: Symbols, Space, and the City (MIT), a newly published collection of his columns, reveals that more often than not he analyzes urban public areas — which he calls "complex, multimodal systems of spaces, information flows, and practices" — in Greater Boston. Via phone from his home in Cambridge, Mitchell revealed the symbolic meaning of, among other spaces, Formaggio Kitchen and the 2004 DNC's so-called Free Speech Zone.
IDEAS: You write that the contrast between Cambridge's Formaggio Kitchen and Peapod, the online grocery delivery service, illustrates key aspects of "the 21st century's new economy of presence." What is that?
MITCHELL: You can only be present in so many locations each day, so presence — especially for a busy two-career household — becomes a scarce resource. An "economy of presence" is a phrase theorists now employ in regard to designing cities and architecture, and what I try to do is bring abstract questions like that down to concrete experiences…. Buying groceries online can be a very effective way of optimizing your use of presence, yet I've noticed that a lot of people consider spending time sampling the fancy cheese and wine at Formaggio a fine use of this valuable resource, because they value the sensual experience, not to mention the chance to socialize with friends.
IDEAS: Another hot topic in architecture is "smart homes." What do you think of PlaceLab, the Central Square condo-cum-research lab whose residents are monitored by hundreds of sensors?
MITCHELL: Architecture that's intelligent — embedded with RFID tags, sensors, wireless networks — has great functional advantages. One of the ideas behind PlaceLab is that society will be able to provide effective healthcare to aging Baby Boomers by putting them in a dwelling that knows if you're eating right, for example, or if you've fallen and can't get up. If Grandma chooses to be in an intelligent condo, the question is should her kids be automatically notified if she's not doing well? I'd say yes. But should the insurance company be notified? I'd say no. PlaceLab is fascinating because instead of just talking about these tricky ethical and policy issues, we can study them firsthand.
IDEAS: What did you mean when you wrote, during the Democratic National Convention in Boston, that a "state-of-the-art, $50 million anti-agora" had been created around the FleetCenter?
MITCHELL: The idea of the agora, the central civic space of ancient Greek cities, has survived through many centuries as a powerful symbol of the right of citizens in a democracy to assemble freely and speak their minds. But around the FleetCenter — where the supposed democratic process was taking place — approaches were cordoned off, North Station and the Central Artery were closed, and demonstrators were herded into an out-of-the-way Free Speech Zone. What a travesty!
***
READ MORE essays by Joshua Glenn, originally published in: THE BAFFLER | BOSTON GLOBE IDEAS | BRAINIAC | CABINET | FEED | HERMENAUT | HILOBROW | HILOBROW: GENERATIONS | HILOBROW: RADIUM AGE SCIENCE FICTION | HILOBROW: SHOCKING BLOCKING | THE IDLER | IO9 | N+1 | NEW YORK TIMES BOOK REVIEW | SEMIONAUT | SLATE