BRAINIAC Q&A (3)
By: Joshua Glenn
October 2, 2012
From late September 2002 through early 2006, HILOBROW's Joshua Glenn wrote THE EXAMINED LIFE, a weekly three-item column for the Boston Globe's Ideas section; and from late 2006 though mid-2008, he wrote BRAINIAC, an Ideas section blog that was repurposed as a three-item weekly column in the paper. This series reprints a few Q&As from Glenn's two Ideas columns. [Brainiac image via 4CP]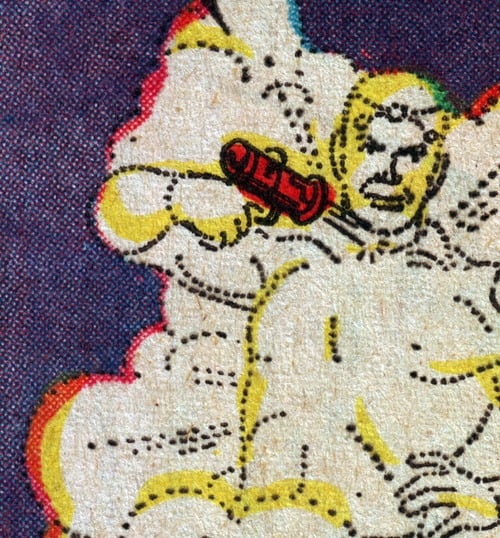 ***
October 30, 2005
AS HEARD ON TV
When Leslie Savan was an advertising columnist for The Village Voice in the late '90s, she recalls, "I started noticing these punchy idioms popping up in TV ads — a withering 'I don't think so!' or a 'Yesss!' — and I wondered if they were different from other catch phrases. They sounded like they had a built-in laugh track or 'APPLAUSE' sign. I also became aware that many Americans, including myself, were using them in daily conversation — as though advertising had invaded our lives." In her new book, Slam-Dunks and No-Brainers (Knopf), Savan examines what she calls the "pop language" used by journalists, businesspeople, politicians, and the rest of us to market our ideas and ourselves to one another — and explains what our favorite phrases tell us about how we live today. Savan spoke with me via phone from her home in New Jersey.
IDEAS: What is "pop language," exactly?
SAVAN: By "pop" I mean that it's popular, or mainstream — phrases like "think outside the box" or "Hel-lo?" appeal to everyone regardless of age, race, class, or region. But "pop" also means we absorb these phrases from pop culture. When I hear a phrase like, "What part of 'no' don't you understand?" it has the sound, to me, of millions of others having said it before and millions being persuaded by it. Which is why we use these phrases to sell products, ideas, or arguments — they're proven to out-market blander communications, not to mention boring old facts.
IDEAS: Even policy makers, you point out, use these catch phrases.
SAVAN: The most prominent example may be when [former] CIA director George Tenet assured Bush, Cheney, and other members of the administration that finding Saddam's weapons of mass destruction would be a "slam-dunk" case for invading Iraq — I believe he even made some basketball gestures.
IDEAS: What effect does using this language have on us?
SAVAN: If the most powerful language we can use to communicate is language we've soaked up from ads and sitcoms, we're losing our individuality. Using these phrases makes us operate less like free-thinking agents than performers with pre-scripted responses, and life in general becomes merely a series of exchanges with predetermined results. At a less extreme level, phrases like "Duh!" or "Get over it" or "Not even close" don't help us communicate, really. They're ways of foreclosing not only discussion but thought itself.
IDEAS: Do you spend a lot of time pointing out to people their over-reliance on pop language?
SAVAN: No, I don't like to be a finger-wagger, and I use these phrases all the time, myself. Though I'm far more aware, now, of how I'm using them — how I'm expecting to get a slam-dunk by using the phrase "slam-dunk" — and that does make me feel like a salesman. I wrote the book not to make people embarrassed but to make them aware of our increasing reliance on this language and to explore its role in society and politics. If you're aware of [pop language], then when somebody uses a phrase like "Bring it on," say, to persuade you of something, you might not be persuaded.
***
READ MORE essays by Joshua Glenn, originally published in: THE BAFFLER | BOSTON GLOBE IDEAS | BRAINIAC | CABINET | FEED | HERMENAUT | HILOBROW | HILOBROW: GENERATIONS | HILOBROW: RADIUM AGE SCIENCE FICTION | HILOBROW: SHOCKING BLOCKING | THE IDLER | IO9 | N+1 | NEW YORK TIMES BOOK REVIEW | SEMIONAUT | SLATE