BRAINIAC Q&A (1)
By: Joshua Glenn
September 30, 2012
From late September 2002 through early 2006, HILOBROW's Joshua Glenn wrote THE EXAMINED LIFE, a weekly three-item column for the Boston Globe's Ideas section; and from late 2006 though mid-2008, he wrote BRAINIAC, an Ideas section blog that was repurposed as a three-item weekly column in the paper. This series reprints a few Q&As from Glenn's two Ideas columns. [Brainiac image via 4CP]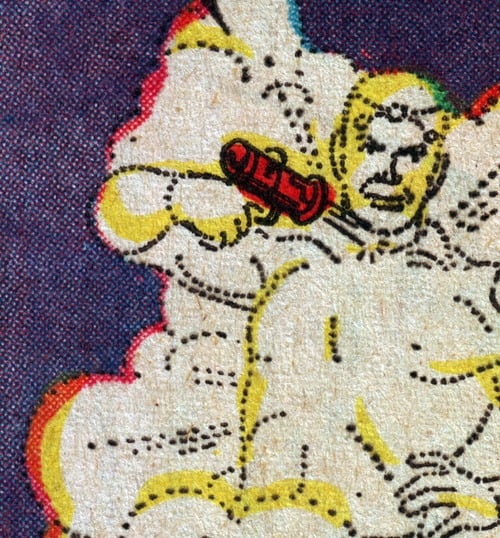 ***
December 11, 2005
BLUE LAWS
Like small children still do, natural scientists and others, from Leonardo da Vinci to Johannes Kepler to Descartes to Newton, long wondered why the sky is blue. As recently as 1862 the celebrated astronomer Sir John Herschel was forced to admit that the color of skylight remained one of the "great standing enigmas of meteorology." The enigma was solved, more or less, in the 1870s by British physicists James Clerk Maxwell and Lord Rayleigh. But according to Peter Pesic, a physicist and author who teaches at St. John's College, Santa Fe, its solution remains fascinating because it contains "deep realizations about the nature of the universe." Pesic, whose book Sky in a Bottle has just been published by MIT Press, spoke with me via telephone from Santa Fe.
IDEAS: Why do children ask why the sky is blue?
PESIC: Because, I suspect, it's such a striking and amazing phenomenon that we see all the time — and because the color seems to be so distinctive. As far as we know, though, thousands of years of human history passed before someone wondered about the sky's color. Neither the [pre-Platonic] Greeks nor the ancient Chinese wrote about it.
IDEAS: When did scientists begin to ask the question?
PESIC: The question emerges for the first time in a treatise attributed to Aristotle, one that presciently suggests that the color of skylight has something to do with an interaction between the air and outside influences — that is, the surrounding darkness. But why blue, as opposed to another color? No one asked themselves this question until Descartes. He attributed the color of the sky to particles floating and spinning in something later called "ether," and which turned red or blue depending on whether they were spinning more or less rapidly. But this was, of course, sheer speculation.
IDEAS: You claim that art and science arrived at the solution simultaneously.
PESIC: In his 1869 lectures, the English art critic John Ruskin claimed that the sky's blue is caused by what he called the "divided air" — which is to say, not by a watery vapor or particles in the air, as was widely believed, but by what the Scottish physicist James Clerk Maxwell, working around the same time, claimed were the molecules of the atmosphere itself. Maxwell was a pioneer in convincing scientists in the physical reality of atoms, though one couldn't see or feel them. If the sky's blue depends on the diffraction of light, as experimentation at the time suggested it did — but if, as Maxwell believed, there were no particles suspended in "ether" to do the diffracting — then one had to accept a far-reaching conclusion, that those "particles" must be air molecules. Atomic theory is perhaps most attractively proved by the sky's blueness.
***
READ MORE essays by Joshua Glenn, originally published in: THE BAFFLER | BOSTON GLOBE IDEAS | BRAINIAC | CABINET | FEED | HERMENAUT | HILOBROW | HILOBROW: GENERATIONS | HILOBROW: RADIUM AGE SCIENCE FICTION | HILOBROW: SHOCKING BLOCKING | THE IDLER | IO9 | N+1 | NEW YORK TIMES BOOK REVIEW | SEMIONAUT | SLATE