Guy Peellaert
By: Norman Hathaway
April 6, 2012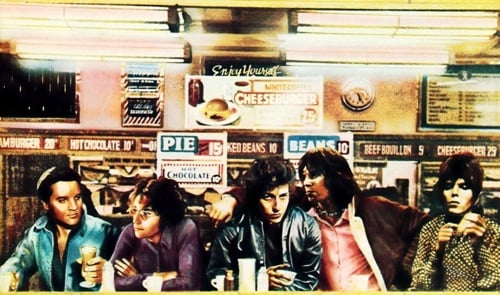 The first time I ran across artist GUY PEELLAERT's (1934-2008) work was in 1974. His cover illustration for Rock Dreams — portrayed a group of famous musicians improbably hanging out together at a seedy luncheonette counter — possessed some of the hallmarks of the then-popular style of shiny airbrush art, yet something was wrong. This wasn't one bit happy; the colors were muddy and dark, and after closer inspection it wasn't clear whether they'd been drawn or were mere colorized photos. I didn't like it. But after taking a longer look, I fell hard for it. Being Belgian, Peelaert wasn't buying any of the hype with which we Americans portrayed our musical gods. Here was Phil Spector sheepishly entering a locker room full of barely clothed studs, Ray Charles confidently embracing a white woman while driving his convertible, and my favorite — an amazing monotoned image of Hank Williams nodding off in a pill-fueled stupor in the back of his Caddy. Years later I realized that Peelaert had also been responsible for one of my favorite pieces of power-pop comic art; Jodelle (and later Pravda), which plastered hip, mid-'60s fashion drawing into a dystopian landscape of the future, done in a completely different linear graphic design-based style. And of course I'm still deeply in love with the beautifully sad images done for the Taxi Driver and Paris, Texas film posters, that illustrate how brilliant he was at portraying bleak city life. Guy showed us a bum trip that was perfectly in sync with the shit Seventies. He had sped way ahead of the mere "illustrators," tossing the rulebook that preached selling your subject matter by polishing it and making it seductive for the viewer, and was making his own commentary about the impact of idol worship upon its objects.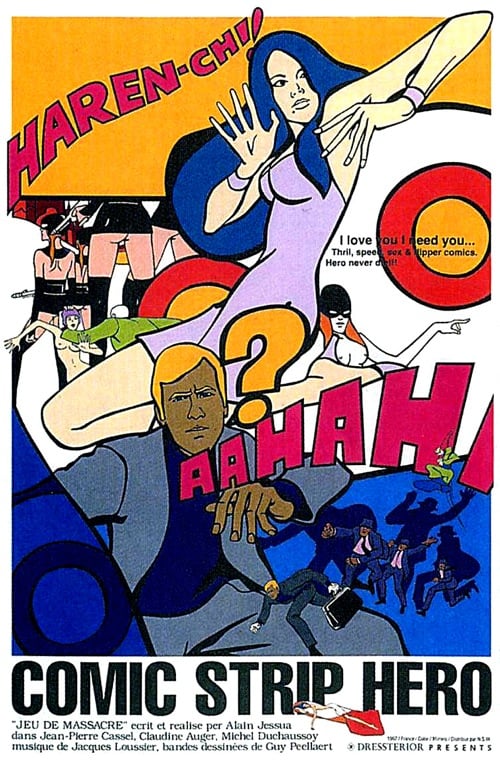 ***
PS: As previously noted, Fantagraphics will publish archival editions of Peelaert's amazing graphic novels Jodelle and Pravda in 2012.
On his or her birthday, HiLobrow irregularly pays tribute to one of our high-, low-, no-, or hilobrow heroes. Also born this date: Black Francis and Georges Darien.
READ MORE about men and women born on the cusp between the Postmodernist (1924-33) and Anti-Anti-Utopian (1934-43) generations.