Subsupermen (6)
By: HILOBROW
March 9, 2012
HILOBROW is currently running a micro-fiction contest (deadline: March 14) that asks readers to write a very short pulp hero blurb for a famous non-pulp work of fiction or film.
In order to provide inspiration for this creative challenge, HILOBROW is currently publishing a series of posts featuring several minor golden-age superhero establishing panels.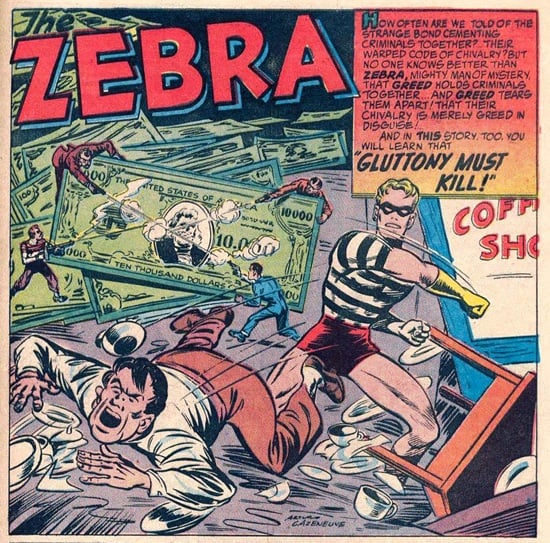 As John Hilgart notes, in his introduction to this series of posts,
These panels are at the center of the discursive Venn diagram where pulp fiction heroes, radio heroes, and comic books converged. They're concept pitches, delivered with "coming up next," "don't touch that dial" urgency. Many could serve as blurbs on the covers of paperbacks. The heroes' names and their typography tell you unambiguously how to deliver them in the correct dramatic voice.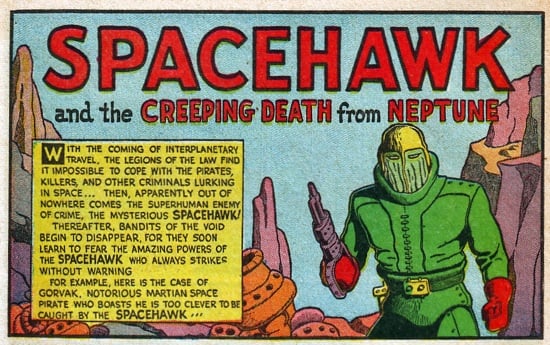 Though these heroes may seem silly, Hilgart — who gave us his folder of golden-age superhero establishing panels, to use for this series — encourages us to recall that the form of the panels shown here is not intrinsically goofy; it's just "a concentrated sketch of character and purpose, delivered with the energy of a pitch."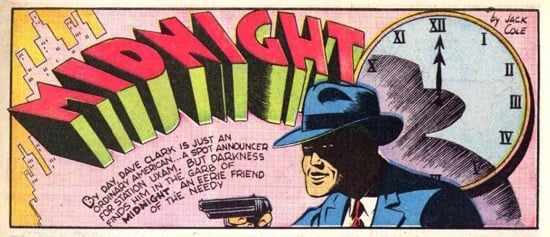 That's exactly the point of HILOBROW's micro-fiction contest, which runs from February 21 through March 14; only we challenge you to pitch a classic novel or movie in this form. Here are the contest rules; it's also the place to submit your entry. Write your pitch today!
***
The contest is sponsored by our friends at Pazzo Books, purveyor of high-, low-, and hilobrow used, rare, and impossible-to-find books, plus maps and other ephemera. Please click on the banner below to visit their website.

***
SIMILAR HILOBROW SERIES: MEET THE L.I.S. — John Hilgart discovers "implicit superheroes" concealed within comic-book mastheads | 4CP FRIDAY — themed comic-book detail galleries, curated by fans of John Hilgart's 4CP project | CHESS MATCH — a gallery of pulp fiction chess games | COMICALLY VINTAGE — that's-what-she-said vintage comic panels | DC — THE NEW 52 — an 11-year-old reviews DC's new lineup | FILE X — a one-of-a-kind gallery of "X" pulp paperback covers | KIRB YOUR ENTHUSIASM — 25 writers on 25 Jack Kirby panels | SECRET PANEL — Silver Age comics' double entendres | SKRULLICISM — they lurk among us
CLICK HERE for more comics and cartoon-related posts on HiLobrow.