Scott Walker
By: Adam McGovern
January 9, 2012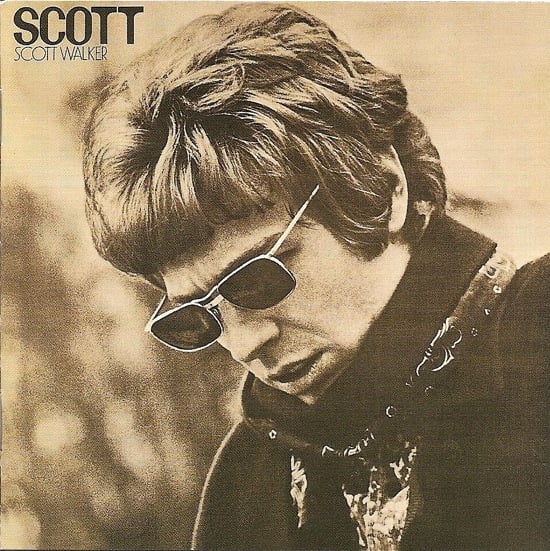 I have no memory of SCOTT WALKER (born 1943), and that's what frees him to be a major part of the musical future. No relation to the now-infamous governor of Wisconsin, Noel Scott Engel was first marketed as an American teen idol in the late 1950s, traveling through Britpop stardom to become one of those artists more "influential" than known. After a namechange as a member of the Walker Brothers (none of whom were brothers or born "Walker") Scott moved to Britain and for a while outsold the Beatles. It was a maneuver that would prove to be defining, switching identities to the most commonplace of surnames, thus melting into the phonebook while making an indelible mark. This ain't a biography, and the chronology is irrelevant anyway, as Walker replaced himself as art-crooner and, these days, operatic auteur of ordeal, each leap without visible precedent. There's always something more, and Walker sends back reports to an appetitive culture of how much they really want it. He skims the event-horizon of listenable music and bearable emotion, going to the extremes of experience and coming back with collected songs that are just a bit more fascinating than frightening — one album per decade, like the turbulent, shrieking The Drift from 2006, a crosstime testament of massacres, assassinations and unrecorded suffering in slabs and shards of severe yet sadly beautiful post-music. David Bowie borrowed more than a portion of Walker's soul and produced a documentary on him, but beyond fashionable phases, true transformation is traumatic, and this is what transformation sounds like — the former (and still formidable) golden voice howling on behalf of other people's ghosts. Walker catalogues the grand tragedies and intimate atrocities of history while he and you get sucked in but somehow not consumed — he's the man who made the abyss blink.
***
On his or her birthday, HiLobrow irregularly pays tribute to one of our high-, low-, no-, or hilobrow heroes. Also born this date: Karel Čapek.
READ MORE about men and women born on the cusp between the Anti-Anti-Utopian (1934-43) and Blank (1944-53) generations.