Feedback (11)
By: Joshua Glenn
November 30, 2011
Eleventh in a series reprinting FEED Dailies written by the author in 1999-2000.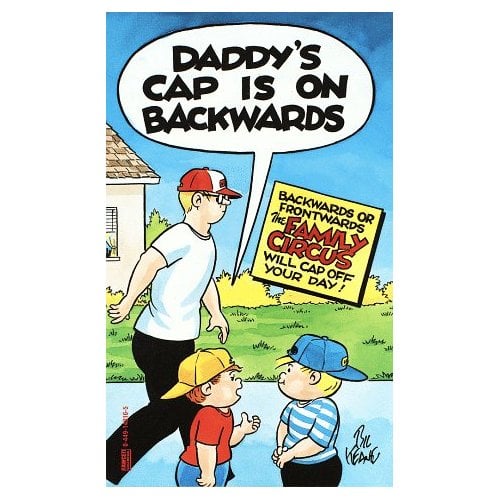 FEED (March 9, 1999): However depressing, it wasn't much of a shocker when the news broke last month that everybody's favorite online bookseller has been fixing their "complete Amazon.com editorial review treatment" of new books, including a listing in the popular, staff-driven "What We're Reading" category, based on bribes from the publishers. Of course, reviewing in general has long ceased to be anything but a mutant appendage of the PR industry, but the very idea of the "authoritative" book review handed down from on high is so old media. Meanwhile, as critics have been decrying the crooked interbreeding of search engines, advertising, and book reviews, and as Amazon struggles to cope with the damage wrought by the recent iceberg of bad publicity, a bizarre example of digital-age poetic justice has broken out below decks, in the Customer Reviews section.
Anyone familiar with the typical Amazon.com Customer Review — of, say, Bret Easton Ellis's American Psycho — is all too used to reading sentences like this one: "With Manhattan as a backdrop, all of Patrick Bateman's good looks, shiatsu massages, Evian, Comme des Garcon facial products, and unbeliveable [sic] wardrobe will not be enough to stop him from becoming a monster in his spare time who enjoys tourchering [sic] Sharpeis, and all sorts of other human pets." Sickened by this kind of insipid commentary, a revolutionary cadre of Amazon.com denizens has infiltrated the Customer Reviews bulletin board for Daddy's Cap is on Backwards, a collection of Bil ("Family Circus") Keane's strips, and applied every radical interpretation imaginable. In recent weeks, the underemployed post-grad subculture has been abuzz with the news; e-mails with the subject line "Check this out before Amazon gets wind of it!" have been flying back and forth across the country.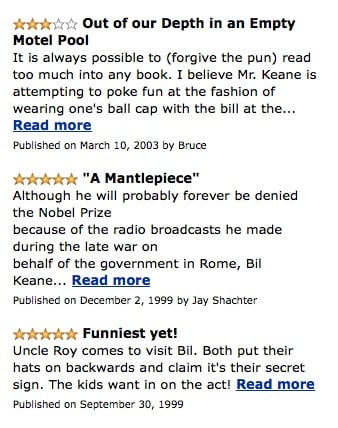 "Keane has been following the same outdated left-wing intellectual formula since the start of the Cold War. Each of his one panel cartoons are so filled with subtexts and post-Leninist commentary in the decay of capitalism that you are almost compelled to shout, 'Hey, get with the rest of the world! Socialism is dead!'" cried one hard-line critic. Others read Keane's banal, family-friendly comic strip as a "dramatic, painful portrait of the American family, caught in the jaws of the bear-trap that is 20th century capitalism," "an amazing pastiche of modern angst," and a masterpiece in the genre of "burb noir." As if these examples were not already excellent proof that the web-business mantra "Content good, free content better" is a fallacy, there's more. Keane is a "stubborn iconoclast of a nearly Kantian refusal to deny subjectivity any positionality other than a rather liminal objectivity," insists one acolyte. Another muses on the elderly cartoonist's ability to follow "the travails of a country without mystery, without science, without theatre; through a morass of deeply etched black dotted lines."
This kind of tongue-in-cheek expression of hermeneutic vertigo is harmless enough, but the self-referential bulletin board activity has began to mushroom into unwieldy metalevels. Most gleefully subversive are those mock Customer Reviews of Daddy's Cap is on Backwards which ape the authentic ones. One "patrickbateman" penned a reappropriated review of American Psycho in which Keane becomes "a literary authority on the lives of the infinitely wealthy," and his creation Jeffy becomes a misogynistic serial killer. Another disparages the "cash-and-carry theory crowd" for making light of such an important text. But while all this reviewer mutiny may just end up getting squirreled away in the Amazon archives, it exemplifies just the sort of democratic activity that could restore to the medium — and by extension, to Amazon — its anarchic integrity.
***
READ MORE essays by Joshua Glenn, originally published in: THE BAFFLER | BOSTON GLOBE IDEAS | BRAINIAC | CABINET | FEED | HERMENAUT | HILOBROW | HILOBROW: GENERATIONS | HILOBROW: RADIUM AGE SCIENCE FICTION | HILOBROW: SHOCKING BLOCKING | THE IDLER | IO9 | N+1 | NEW YORK TIMES BOOK REVIEW | SEMIONAUT | SLATE
Joshua Glenn's books include UNBORED: THE ESSENTIAL FIELD GUIDE TO SERIOUS FUN (with Elizabeth Foy Larsen); and SIGNIFICANT OBJECTS: 100 EXTRAORDINARY STORIES ABOUT ORDINARY THINGS (with Rob Walker).