Frame by Frame
By: Edrie
February 3, 2010
If you build it (to look real) they will come, seems to be the mantra of current big budget animation. Think blow-out live action mixed with fantastical worlds like Avatar and the upcoming Alice in Wonderland. Though I'm as fond of nearly naked blue ladies and rabbits with pocket watches as the next gal, this Alice is still in favor of animation that makes more than a visual point.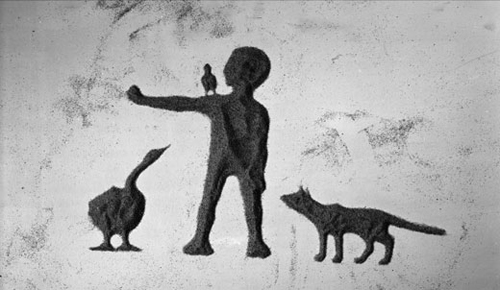 The exhibition Frame by Frame: Animated at Harvard, highlights pieces of Harvard's long history with animation through rarely seen films retrieved from the Harvard Film Archive, and samplings of current and former student works, as well as works by world-renowned faculty.
Asparagus (1979) by Suzan Pitt explores visual metaphor though a quixotic point of view. The lavish nature of its depth and vision focuses the viewer in on the poetry of animation.
Three Beauties (2009) by Tiffanie Hsu is, perhaps, the antithesis of the 3D craze.
Its beauty lies in visual simplicity combined with a strong story.
If you'd like to spend a few hours immersing yourself in many worlds sans 3D-glasses, the exhibition: Frame by Frame: Animated at Harvard runs through February 14th and is co-curated by Ruth Lingford and Terah Maher. Exhibition design by Terah Maher. Reception Thursday, February 4, 5:30-6:30 pm.
***
Artists in residence archive.