On the difficulty of identifying Hilobrows
By: Joshua Glenn
August 5, 2009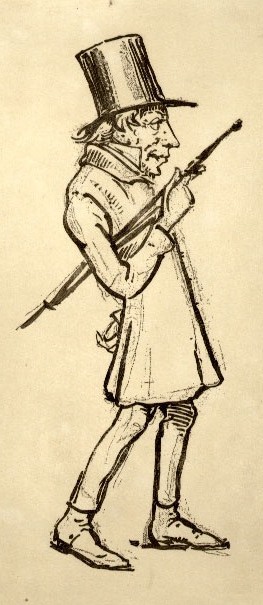 Nobrows are easily recognized, for their gait is dancing and bold. But HiLobrows frequently deceive one because their bearing is curiously like that of a class of people heartily despised by Nobrows as well as by HiLobrows — the Middlebrow.
So wrote one of HiLobrow.com's predecessors, a daring and perceptive seeker pictured above, in a cruel caricature. NB: We might not have the translation of this material exactly right; that is to say, we've seen other translations.
Our intellectual ancestor continues:
Let me admit frankly that I have not in my experience encountered any certain specimen of this type; but I do not refuse to admit that as far as I know, every other person may be such a specimen. At the same time I will say that I have searched vainly for years…. As I said, I have not met with such a one; but I can easily imagine her. Here she is. I make her acquaintance and am introduced to her. The first moment I lay my eyes on her I push her back, leaping back myself, I hold up my hands in amazement and say to myself: 'Good Lord! That person? Is it really she — why, she looks like [Ellen DeGeneres]!' But it is really she.
Ellen DeGeneres? Well, close enough. You get the idea.
This is a tricky business!
***
READ MORE essays by Joshua Glenn, originally published in: THE BAFFLER | BOSTON GLOBE IDEAS | BRAINIAC | CABINET | FEED | HERMENAUT | HILOBROW | HILOBROW: GENERATIONS | HILOBROW: RADIUM AGE SCIENCE FICTION | HILOBROW: SHOCKING BLOCKING | THE IDLER | IO9 | N+1 | NEW YORK TIMES BOOK REVIEW | SEMIONAUT | SLATE
Joshua Glenn's books include UNBORED: THE ESSENTIAL FIELD GUIDE TO SERIOUS FUN (with Elizabeth Foy Larsen); and SIGNIFICANT OBJECTS: 100 EXTRAORDINARY STORIES ABOUT ORDINARY THINGS (with Rob Walker).